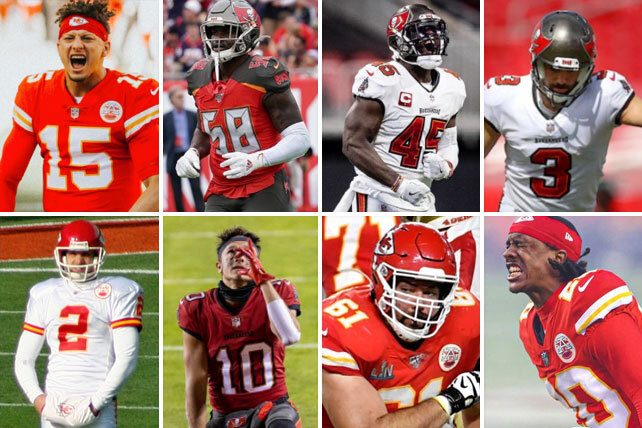 Like most everything else lately, the Super Bowl 2021—and game-watching parties—will look a bit different when the Kansas City Chiefs play the Tampa Bay Buccaneers on February 7. Due to pandemic-related restrictions, Raymond James Stadium in Tampa Bay will admit only about 22,000 fans—a third of whom are pre-selected, vaccinated health-care workers.
One positive trend that hasn't changed, however, is that again this year, each team's roster contains several people who are vocal about their Christian faith.
Christian Players in Super Bowl 2021
Tampa Bay Buccaneers
The Bucs, who last won a Super Bowl in 2003, added veteran quarterback—and six-time champion—Tom Brady this season. Now they'll be the first team in Super Bowl history to play the big game on their home turf.
Outside linebacker Shaquil Barrett played a major role in helping the Bucs defeat the NFC's top-seeded Green Bay Packers last Sunday. The 28-year-old undrafted player had three sacks and four hits on Packers QB Aaron Rodgers. In a post-game interview, Barrett said, "First of all, I just want to thank my Lord and Savior. To God be all the glory." In his social media posts, the athlete often uses the hashtag #TGBTG, for "To God Be the Glory."
Bucs placekicker Ryan Succop, who grew up Catholic, says he developed a deeper relationship with Jesus during college and started attending a Baptist church. In 2018 he told the Baptist Courier, "The more I spent time in God's Word and the more I prayed, the more at peace I became in [high-pressure] situations." Starting a family also has influenced Succop's beliefs. Meeting his young children for the first time and "knowing there has to be a Creator for that [has] strengthened my faith a lot," he says. "I want to keep trusting God and keep seeking him."
Devin White, a second-year linebacker out of LSU, credits God for orchestrating his career and often speaks about trusting God's perfect timing. "God makes no mistakes," says White, who has tweeted out Jeremiah 29:11.
Fellow second-year pro Scotty Miller, a Bucs wide receiver, echoed those thoughts after winning Sunday's NFC Championship Game. "First and foremost, all glory to God, my Lord and Savior Jesus Christ," he said. "Wouldn't be here without him." Miller lists Romans 10:9 in his Twitter bio: "… if you confess with your mouth that Jesus is Lord and believe in your heart that God raised him from the dead, you will be saved" (ESV).
Bucs head coach Bruce Arians made headlines in 2012 when, as the team's interim coach, he said Tampa was looking for "high-quality" players who care about "faith, family, and football."
Kansas City Chiefs
As ChurchLeaders has reported, the Chiefs' organizational-wide "Kingdom culture" starts at the top. Clark Hunt, owner and CEO of the defending Super Bowl champions, thanked and glorified God while accepting the Lombardi Trophy last February and the Lamar Hunt Trophy (named for his late father) last Sunday. Hunt also nurtures spiritual development among players, staff, and fans, offering Bible studies and Sunday morning worship at Arrowhead Stadium. Before the pandemic put those weekly nondenominational services on hold, Hunt and his family regularly attended.
Marcellus Casey, Kansas City's team chaplain, says a "legacy" of faith runs through the Hunt family. That environment "makes it really easy as a chaplain to have a positive impact with the players and with the coaches," he says. It also attracts other Christian players, including offensive lineman Stefen Wisniewski. "There's definitely a lot of Christians in the organization, and when it starts at the top, that's pretty powerful," he tells Sports Spectrum, speaking about Hunt.