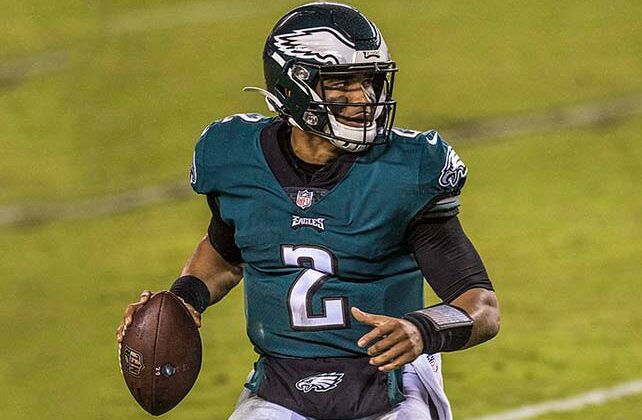 During an interview with CBS' Cody Benjamin earlier this month, Philadelphia Eagles quarterback Jalen Hurts shared that he keeps God the center of his life after realizing that "God is everything."
The 2020 second round pick is in his third year as the Eagles starting quarterback and has his team off to a 3-0 start after beating Carson Wentz and the Washington Commanders 24–8 the third week of the 2022 season.
"I've just matured and realized that God is everything and he's worthy of praise," Hurts said as he discussed his faith. "You have to put [God] at the center of everything that you do. That's what I believe."
RELATED: 12 NFL Players Who LOVE Jesus (and Football)
Jalen Hurts Says Family Taught Him About God
Jalen Hurts credits his family for his strong faith due them teaching him about God. "All my spiritual wisdom, all of my wisdom as a whole, comes from him, in some way, shape or form, whether that be passed down from my father, my mother, my grandmother," Hurts said. "I just think, in all the things that we experience in life — good, bad or indifferent — you have to keep him in the center.
The young, electrifying quarterback explained that God is at the center of all he does and deserves all the praise for the man he is today. Hurts shared in the interview that someone asked him if by being an African American NFL quarterback in Philadelphia he feels like he has to "open up or be a certain way."
RELATED: Saying 'Yes' to God Allows Raiders QB Derek Carr to Preach and Play