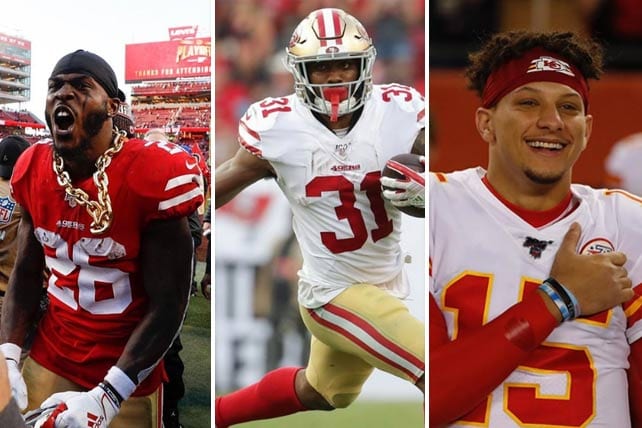 The matchup is set for Super Bowl LIV, with the Kansas City Chiefs and the San Francisco 49ers facing off on Sunday, February 2 in Miami. Key members (including star Chiefs quarterback Patrick Mahomes) of both teams say that faith in God defines them—and that they wouldn't be where they are today without him.
As the organizers of the Football Sunday campaign point out, the Super Bowl provides valuable opportunities for fellowship and outreach. Football Sunday videos and other resources are one way church leaders can leverage this cultural event to transform lives. As game day approaches, materials are being tailored to spotlight participants from this year's Super Bowl teams who are Christians. A few are highlighted here:
Chiefs Owner, Mahomes Give Credit to God
The Kansas City Chiefs, who are making their first Super Bowl appearance in 50 years, claimed the Lamar Hunt Trophy Sunday by beating the Tennessee Titans in the AFC Championship Game. The trophy was presented to co-owner Clark Hunt, son of team founder Lamar (who died in 2006). After offering congratulations, Hunt thanked God for "blessing us with this opportunity" adding, "The glory belongs to him."
Hunt, 54, has been a Christian since age 10 and recently said, "My identity is my faith in Christ." He lives that out by helping team employees "develop spiritually." Through partnerships with Kansas City churches and the local chapter of the Fellowship of Christian Athletes, Hunt also helps Chiefs fans honor the Sabbath. For the past five years, a nondenominational chapel service has been held at Arrowhead Stadium on the morning of home games. Hunt and his family members attend regularly.
Another prominent member of the Chiefs who's vocal about his faith is standout quarterback Patrick Mahomes, the reigning NFL MVP. After accepting that award last February, he tweeted, "God is amazing!" When asked in 2017 about his faith, Mahomes said it's "always been a big part of what I do." He added, "I've grown up in church, and [faith] really helps you know why you're playing the game, and who you're doing it for."
Mahomes was baptized during seventh grade, a decision his mom, Randi, credits to his desire to "become a man in church." Remaining humble is a priority for Randi Mahomes, who says she encourages her son to pray and thank God for his blessings and abilities.
Patrick Mahomes is just the third NFL player to win an MVP award and reach a Super Bowl within three seasons. Now the 24-year-old is preparing to step onto football's biggest stage, leading the slightly favored Chiefs to what would be their first championship since 1970.
View this post on Instagram
Amid Adversity, 49ers Players Cling to Christ
After defeating the Green Bay Packers on Sunday, the San Francisco 49ers earned the chance to claim their sixth Super Bowl title. The breakout star in the NFC Championship Game was Raheem Mostert, a running back who'd been cut by six other teams. During a performance that he said felt "surreal," Mostert ran for 220 yards and four touchdowns against the Packers. But in a post-game interview, he said, "I would like to thank God first and foremost for blessing not only myself but everybody in the organization to be in the position that we're in."
Despite going undrafted and bouncing from team to team, Mostert clung to the belief that "God's plan is the best plan"—as he tweeted a few years ago. On his social media accounts, the journeyman running back lists Psalm 23:4-6 in his bio.
View this post on Instagram
Fellow 49ers running back Tevin Coleman is no stranger to adversity either—and hasn't let it hinder his Christian witness. Following a playoff win against Minnesota earlier this month, he said God has blessed him from day one. "I had a 20 percent chance of living," says Coleman, who was born three months early and weighed just three-and-a-half pounds. "I'm here for a reason. I'm here to do something," he says. "I've literally been a fighter since I've been born. It reminds me that I can never give up. God has blessed me to be here on this earth."
Now one of Coleman's children faces physical challenges that also require a fighting spirit. Two-year-old Nazaneen has sickle-cell anemia, a blood disease that affects about 10 percent of African Americans. Coleman first revealed his daughter's condition last week and quickly pointed out: "She's strong; she's real strong. Just like me. God definitely picked her to handle this."
View this post on Instagram