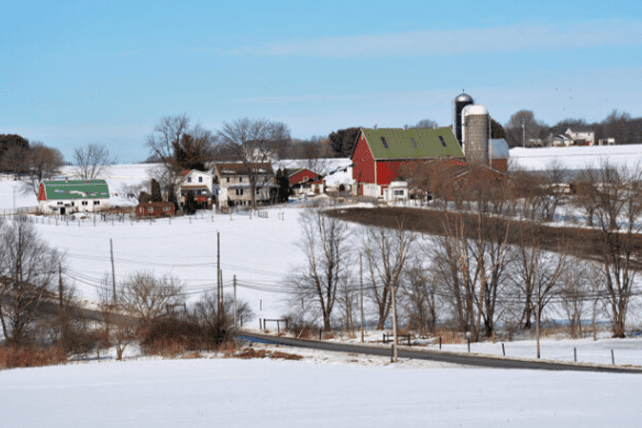 LANCASTER, Pennsylvania (RNS) — Many outsiders who travel to Lancaster County every year are drawn by the area's reputation as the heart of Amish country. In fact, the rolling hills of the county west of Philadelphia, and Lancaster City itself, host a diversity of Christian faiths, with Mennonites and Anabaptists outnumbered by Catholics and mainline Protestants.
Such is the area's historic religiosity that some call Lancaster County the heart of Pennsylvania's Bible Belt.
But in recent years, an influx of transplants, particularly to Lancaster City and its suburbs, have made the area less religiously observant and more politically diverse. As the new residents have moved in over the past decade, clergy who have operated in a relatively homogeneous, small-town culture are navigating a landscape with new tensions. That friction has only been exacerbated by the difficulties of the pandemic and the widening gap between people of different political persuasions.
Amid this strife, the clergy of the Warwick Ministerium — an informal action and mutual support group for the Lancaster area's pastors and other ordained Christian leaders — has been a source of calm and unity.
"Iron sharpens iron," said Missy Deibler, a chaplain at the University of Pittsburgh Medical Center in Lititz, a small town north of Lancaster and ministerium member, using an expression from the Book of Proverbs. "You can be isolated in a church and a particular tradition, but when you hear how others are handling it, prayerfully talking and respecting each other, the Spirit really moves through the group."
Clergy of different denominations and even different faiths have long gathered to share their challenges and create community among their flocks. The Warwick ministerium — named for the township that comprises Lititz and several other small towns around Lancaster — is no different.
Deibler said the ministerium's 25 or so members had fostered "some really strong friendships, amazing support and wise counsel. It's just a group that really cares for each other."
The ministerium has managed to find common ground by developing new strategies to meet the challenges of a changing religious landscape, said the Rev. Jerry McGrath, pastor at Lititz United Methodist Church and president of the ministerium.
He offered the example of last November's ecumenical Thanksgiving service, which had long been hosted at one or another of the ministerium members' churches. The ministerium decided to move the 2022 service to the premises of Clair Global, an audio-visual production company in nearby Lititz. It drew more participants than it ever had before — precisely, said McGrath, because it wasn't held in a church.
He congratulated the members of the ministerium for taking a countercultural approach. "Christ has always called us to lead, not control the future. What's happening in our ministerium is exploration," said McGrath.
But the recent culture clashes in the community have drawn the ministerium's members into more controversial terrain. Last year, some local clergy supported a group of parents and area residents protesting books and curricula used by the Warwick School District, particularly those promoting discussion of social justice and gender identity.
The Rev. Ken Miller, a retired seminary professor who has served for nearly a decade as pastor at St. Paul's Evangelical Congregational Church in nearby Rothsville, said he's heard longtime residents say the newcomers "want the benefits of having that kind of community, but they want to change the ethos that actually created it."