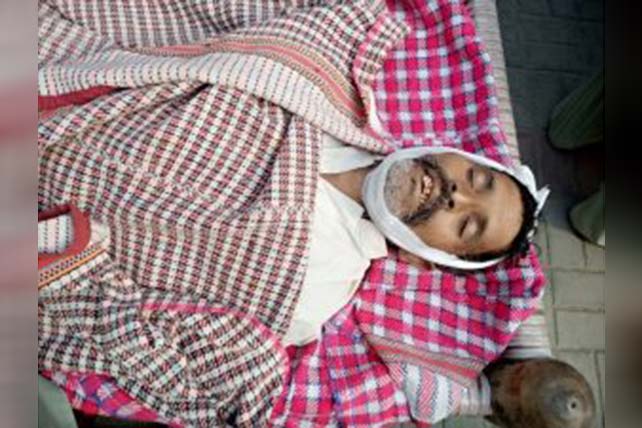 LAHORE, Pakistan (Morning Star News) – A Muslim landowner in Pakistan on Monday (Feb. 6) beat a Catholic farm laborer to death, claiming he had stolen oranges from his orchard, the victim's family said.
The killing follows the shooting death last month of another Christian in the country after he stopped Muslims from stealing from his guava crop.
In Punjab Province's Khanewal District, landlord Rana Muhammad Waseem and five others beat Emmanuel Masih, 48, to death early Monday morning as Masih irrigated his employer's fields in Chak Number 139/10R village, according to the victim's nephew, Zahid Sahotra.
"My uncle was busy in work when Waseem and the other men approached him and accused him of stealing their citrus," Sahotra told Morning Star News. "He pled his innocence, but the men lunged at him and beat him up mercilessly, resulting in his death."
The impoverished laborer was the only breadwinner for his wife and six children, Sahotra said.
"He was very hard-working and honest, and police found no evidence from the crime scene that suggested that he had committed any theft," he said, adding that the 35 Christian families in the village are poor laborers who work for Muslim landowners. "We are very poor and too weak to even think of offending the Muslim villagers. They know that we are helpless and that they can get away with anything, even murder."
RELATED: Muslim Throws Acid on Young Christian Woman in Pakistan
He said that though the police had arrested Waseem and two others, getting justice from the courts would be an uphill task.
"We do not have money to engage a good lawyer," Sahotra said. "The murderers are powerful people, and it's only a matter of time that they'll be out on bail by influencing the police investigation. The fact that we are Christians makes us more vulnerable to injustice."
He appealed to church leaders and Christian rights groups to help the family.
"We are in dire need of legal aid and financial assistance to cope with this tragedy," he said. "Please help us."
'No Chance at Justice'
The killing of Masih was not the first such crime against Pakistan's vulnerable Christian community as Islamic extremism and prejudice have gripped the country.
From extrajudicial killings over false allegations of blasphemy to forced conversion and marriages of underage minority girls, Christians face widespread persecution in Pakistan.
Also in Punjab Province, in Okara District's Renala village, 55-year-old Catholic Allah Ditta on Jan. 11 was gunned down by Muslims after he objected to their stealing fruit from his orchard, family members said.