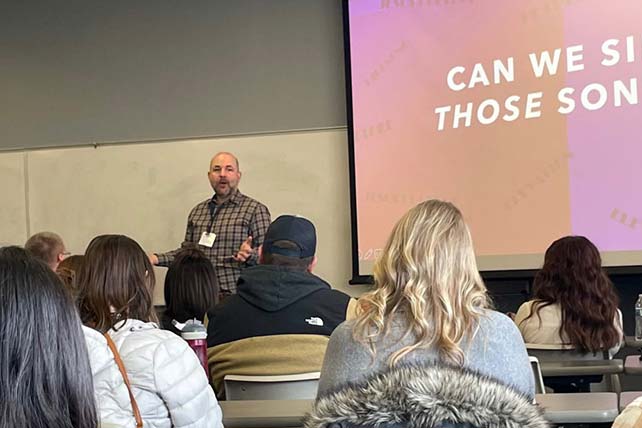 NASHVILLE (BP) — Catchy songs stay in your head as well as your heart. False teachings can join them. Church leaders observed this as long ago as the fourth century.
At that time, a Christian priest named Arius induced controversy through his teaching that Jesus was finite and not equal with God the Father. His influence grew to the point that the idea spread from the church he served as a deacon in Alexandria, Egypt, across the Mediterranean and to other church leaders. The Council of Nicaea declared him a heretic in May 325.
Arianism, as the heresy was known, carried primarily across the region through songs popular with travelers and laborers. In the head, in the heart.
C. Scott Shepherd is familiar with the current-day discussions of similarly popular worship music. Since 2017 he has served as a worship and music specialist for the Tennessee Baptist Mission Board, crisscrossing the state to stay connected to more than 3,000 churches. His days include fielding calls to assist in worship ministry staffing and stylistic transitions, planning worship conferences and overseeing statewide choral groups for men and women.
Questions regarding the suitability of worship music make their way to him.
RELATED: Former Bethel Pastor Addresses 'Wild Rumors' About Grave Sucking and Gold Dust
"We'll host worship roundtables around the state and chew on these topics together and think through them," said Shepherd, who recently led in a worship music workshop at Cedarville University.
He added that songs deemed biblically based and theologically sound are obviously welcome in worship. The primary source of discussion, Shepherd said, is often the song's source.
Is a song OK to sing if disagreements with the affiliated church's theology are more than a secondary issue? What if the church or ministry has a troubling moral or legal history?
Hillsong Church, based in Australia, first left its mark musically in the 1990s with the worldwide popularity of "Shout to the Lord." Numerous other hits followed like "What a Beautiful Name" and "King of Kings." Many churches, including Southern Baptist congregations, sang those and others.