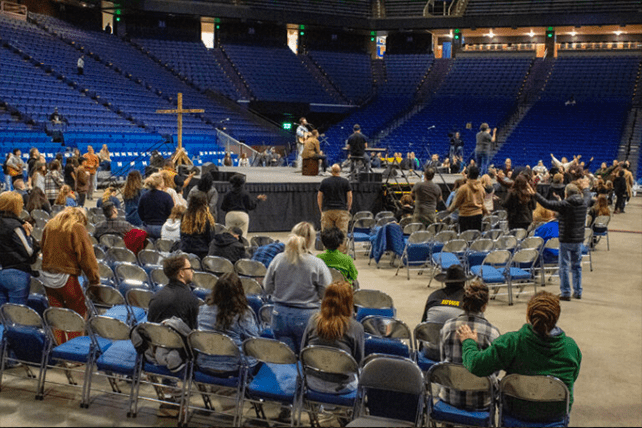 LEXINGTON, Ky. (RNS) — After more than two weeks and worldwide headlines, revival services at Asbury University in central Kentucky came to an end recently.
But the revival goes on off-campus.
On Sunday (Feb. 26), Minneapolis-based evangelist Nick Hall brought an Asbury-inspired revival event to Rupp Arena in Lexington, Kentucky, about half an hour from the Christian school's campus.
Hall is the leader of Pulse, a ministry that aims to bring "Jesus to the next generation" by hosting big events. He attended the Asbury revival in its first week and said he was overwhelmed by what God was doing.
After the Asbury revival started spontaneously on Feb. 8, the university officially ended revival services on Feb. 23, which was National Collegiate Day of Prayer. During that final service, people prayed over college campuses, asking God to bring revival to the world.
Similar prayer services have been held at other colleges, including Samford University in Alabama, Lee University in Tennessee and Baylor University in Texas.
Asbury President Kevin Brown announced on Feb. 19 that "outpouring" services would move off campus. The school later decided to no longer have a role in those services.
The school decided to end the on-campus services after tens of thousands of visitors flooded the campus and the small town of Wilmore, Kentucky, overwhelming locals and blocking traffic for miles.
"The Asbury team was just fried, and there was decision fatigue, and just burnout," Hall told Religion News Service. He said Brown told him the school's leaders felt like Asbury's role was complete. The school said its hope is that revival continues in other spaces.
On Thursday, Hall still felt God was telling him to continue revival for those who might've missed the opportunity at Asbury. So at the last minute, Pulse put together the Rupp Arena event in two days' time.
"I just met so many people who didn't get to Asbury who wanted to get there, people who were filled with so much regret because 'God did something and I missed it,'" Hall said.
The event at Rupp Arena was similar to what happened at Asbury, in that there were no structured sermons. Rather it was a time of worship with simple songs, prayer and repentance. The event went for nine hours. Students from Lee University also shared how God moved in their lives.
At several points, people went up on stage to share testimonies. One Iranian man, who goes by the name of Que, came on stage to share that he was healed at the event. He had come to Rupp Arena in a wheelchair and said he has had problems with his legs since 1998.
"Lately it got really worse and I don't know what was the reason; I couldn't walk without the help of my friends," Que said.
He said a man at the event asked him what he could pray for, and Que told the man he wanted to run again.
"He started praying for me and every time he did, I could feel the Holy Spirit going through me," he said.
Que then walked across the stage and down the steps with no assistance.
Forrest Limon, a Pulse staff member and young evangelist, said he was inspired by the revival services.