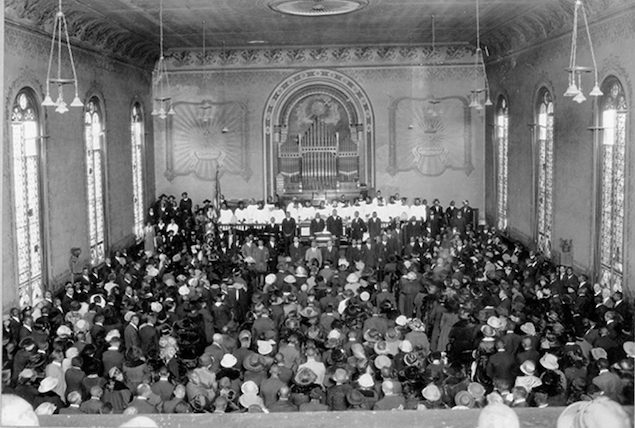 (RNS) — When most people think of the United Methodist Church, Carol Travis said, they don't picture Black people.
"People still think that the United Methodist Church is white," said Travis. "You don't see enough Black faces even though we have been there from the beginning. We never left."
The African American Methodist Heritage Center, where Travis is executive assistant, aims to change that image.
But after funding from the United Methodist Church General Conference ended and in-person events were put on hold during the COVID-19 pandemic, the AAMHC is looking for donations in order to continue its work, which includes recording oral histories and making its collection more widely available.
"We just want it so people will not forget that we have been there all along and that we've made major contributions to the denomination and to the world at large," said Travis, who has been part of the AAMHC since its early days.
RELATED: Methodist racial history recalled on 250th anniversary of Asbury's US arrival
In 1939, during what the United Methodist Church now calls a "painful period of segregation," Methodists created a separate Central Jurisdiction for Black congregations alongside its geographical jurisdictions.
When the Evangelical United Brethren Church and the Methodist Church merged to form the United Methodist Church in 1968, the Central Jurisdiction was disbanded. White Methodists dominated the pews, and, Travis said, "there was a concern that with the United Brethren, with the Methodist Church, with Black folks coming back from the Central Jurisdiction, that our story and our issues would be lost."
That's when Black Methodists for Church Renewal, one of five ethnic caucuses in the United Methodist Church, was founded.
In 2001, the caucus created the African American Methodist Heritage Center to recover and remember Black Methodists' contributions to the denomination.
Under the leadership of Bishop Forrest Stith, now retired, the center began collecting photos, records, papers from prominent Black Methodists and other artifacts from congregations across the denomination. It also created videos about Black history within the denomination and led workshops across the country training congregations to preserve their histories.
"We did a lot of good things, and we broke down our goals to be: to preserve our rich history, to promote our rich history, to also do some research and to ensure that local churches and other entities kept their history alive as well," Stith said.
In recent years, the AAMHC also has begun recording oral histories from Black leaders within the denomination, including bishops, their wives and others who belonged to the Central Jurisdiction. The organization is working with the denomination's General Commission on Archives and History to digitize and make them widely available.