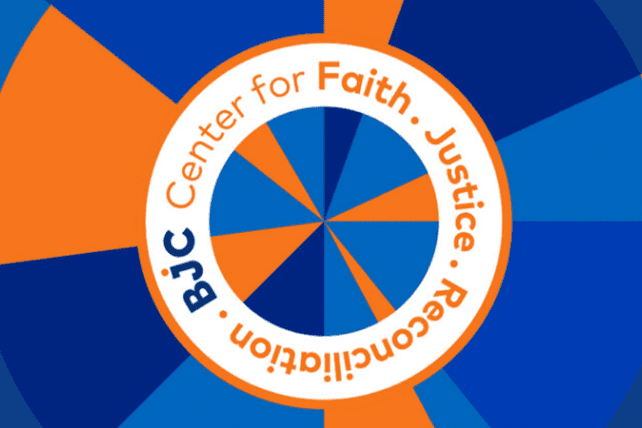 (RNS) — The Baptist Joint Committee for Religious Liberty is acquiring the Center for Faith, Justice, and Reconciliation in a move its leaders say will help them broaden efforts to support a more universal range of religious freedoms in the country.
The 87-year-old coalition of 15 Baptist denominations, including both predominantly Black and white Baptist organizations, is adding the fledgling center as part of its Project for Race and Religious Freedom that it began in 2021.
"This opportunity for BJC to acquire the center and to continue this incredible work of reimagining religious freedom within the organizational home of BJC is a way for us to formalize this commitment to race and religious freedom and continue the work for many years to come," said Amanda Tyler, executive director of the BJC, in an interview with Religion News Service in advance of the Monday (March 6) announcement of the acquisition of the center.
Sabrina E. Dent, who became president of the center in January 2022, has joined the BJC staff after previously serving there as a fellow, followed by roles as a program director at the Freedom Forum Institute's Religious Freedom Center and as a senior faith adviser at Americans United for Separation of Church and State.
The center began in 2019 when the 28-year-old Baptist Theological Seminary at Richmond — the first free-standing seminary developed as an alternative to the Southern Baptist Convention's six seminaries — closed. Its trustees viewed the center as a way to continue the seminary's commitment to ecumenism and racial diversity.
"One of the things that we prioritized in our work was really reimagining religious freedom through the experiences of marginalized communities, whether it was racial or religious minorities," said Dent in an interview, citing how the think tank has hosted multiday virtual conferences bringing together scholars and policymakers to discuss issues such as housing, voting rights and women's rights as well as hourlong programs for the general public.
Last year the center also posted on its website a letter from a transgender youth to show its opposition to proposed Virginia policies that would limit the rights and safety of some children, noting the policies set a precedent for "imbuing a specific ideal of religious belief — Christian Nationalism — in the homes of non-Christians and minority Christians."
Dent and Tyler said a key facet of the center's work will be to continue to address Christian nationalism, a topic Tyler and the BJC have been working on since 2019 when they started the grass-roots campaign called Christians Against Christian Nationalism.
"We believe the best antidote to the poison of Christian nationalism is a commitment to the foundational values of religious freedom for all," said Tyler. "And so, in order to confront Christian nationalism, we need the most robust understanding of religious freedom for all we can possibly have, and the work of the center directly addresses that."
Tyler said the BJC leaders felt challenged to diversify the committee's work after the 2015 mass shooting at Charleston's Mother Emanuel African Methodist Church. She also said her organization learned that in the 1940s, a Black Baptist board member's request that the BJC take a stand addressing racial injustice went unheeded, causing some Black denominational leaders to halt their attendance at board meetings.
"We as an organization have been on a journey of understanding that truth, and confronting that truth, that religious freedom has been white too long and that we, even at BJC, have had too limited of a view of our mission and how that has inhibited fulfillment of our mission," said Tyler.
"And we are in a season now of change and repair, as we build a more inclusive organization and a more inclusive vision of religious freedom for all."