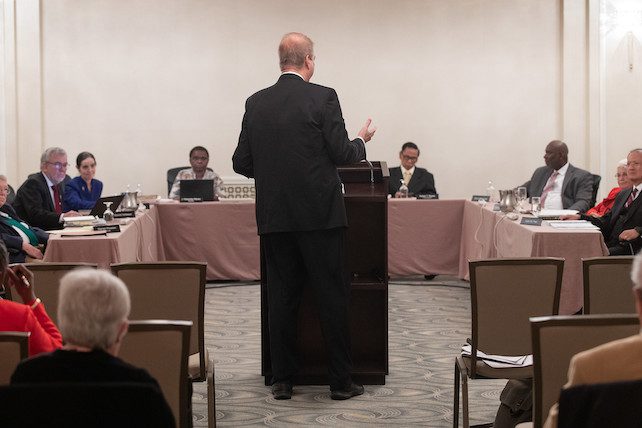 (RNS) — An annual conference in the United States still can't just up and leave the United Methodist Church.
The United Methodist Judicial Council, the denomination's top court, ruled again on that question in a decision released last week (March 7) as the church goes through a slow-moving split over the ordination and marriage of its LGBTQ members.
Three other decisions released by the court as it moves through its fall docket dealt with resolutions approved by annual and jurisdictional conferences — the UMC's regional networks of churches and ministries — regarding LGBTQ inclusion.
RELATED: US annual conferences can't just leave the United Methodist Church, rules top court
The Judicial Council ruled that a 2021 resolution by some Midwestern United Methodists, titled "Covenant to Build BeLoved Community," is mostly "aspirational" and therefore does not conflict with the Book of Discipline, the United Methodist rulebook, which denies LGBTQ people ordination and forbids United Methodist clergy to perform same-sex weddings.
The resolution, approved by a special session of the Upper Midwest's North Central Jurisdictional Conference, calls LGBTQ members "a gift to the church." It also asks members of the jurisdiction not to pursue charges against clergy for officiating same-sex weddings or identifying as LGBTQ.
However, the court felt Michigan Bishop David Alan Bard went too far in accepting one line in the resolution — "We will not restrict God's calling based solely on a candidate's sexual orientation or gender identity" — which it deemed a "declaration of non-compliance."
In another decision, the Judicial Council reversed a previous decision by Bishop Julius Trimble upholding a resolution passed last year by the Indiana Annual Conference called "A Commitment to Grace in The Indiana Conference" that had expressed support for clergy's ability to choose which weddings they officiate. The resolution echoed the language ignoring the gender and sexuality of candidates for ordination that the court found "prescriptive," rather than aspirational, in the North Central resolution.
The court also upheld a decision by Bishop James Swanson Sr., since retired, who affirmed a resolution by the Mississippi Annual Conference "declaring that the practice of homosexuality is contrary to God's standard of holy behavior, and consequently, is an immoral (sinful) act of behavior." It said the resolution was aspirational and did not conflict with the Book of Discipline.