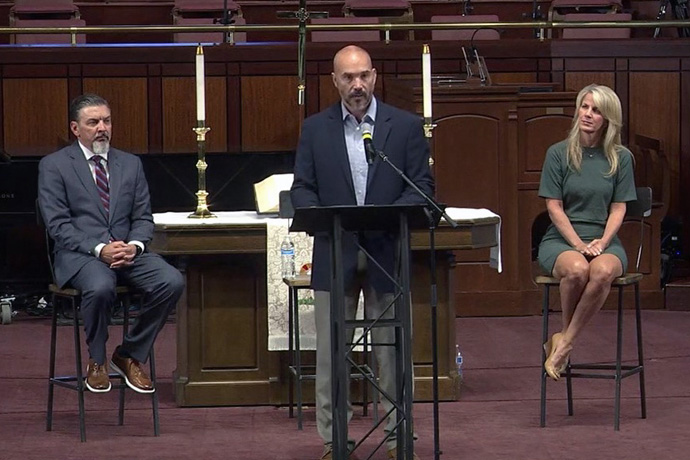 Citing strife over a new pastor's appointment and other issues, North Georgia Conference leaders voted to take over management of the conference's largest-membership congregation.
The conference's Bishop Sue Haupert-Johnson, district superintendents and a church-property board "unanimously determined that 'exigent circumstances' have threatened the continued vitality and mission of Mt. Bethel United Methodist Church," the conference said in a statement.
Mt. Bethel United Methodist Church leaders and attorneys received notification July 12 of the immediate transfer of assets from the Marietta congregation to the conference board of trustees. The notification said church leaders must complete the transfer to the trustees within 10 days, the conference said.
Mt. Bethel, which counts more than 10,260 members, includes two campuses and a kindergarten-12th grade Christian Academy. According to records the church submitted to the conference, the market value of the church land, buildings and equipment is about $34.6 million.
Employment, instruction, activities and worship at the church and academy will continue but under the direction of the conference board of trustees, the conference said.
"What has occurred is simply a rejection by the leadership at Mt. Bethel of the rules and procedures for our church as outlined in the Book of Discipline and amount to an obstruction of the appointment process and polity of The United Methodist Church," Haupert-Johnson said in a statement.
She told United Methodist News that the conference leaders made their decision in consultation with legal counsel and conference committees.
Bishop Sue Haupert-Johnson, North Georgia Conference.
Photo courtesy of the North Georgia Conference.
In a statement, Mt. Bethel leaders said Haupert-Johnson's actions threaten the church's vitality.
"The people of Mt. Bethel Church will do all in their power to resist the aggressive actions against their church, and they will do all they can to restore the reputational damage Haupert-Johnson is inflicting on many local United Methodist churches that simply want to do ministry," the Mt. Bethel statement said.
Leaders at Mt. Bethel shared the statement after UM News' request for comment.
The conference is acting within its authority under the Book of Discipline, the denomination's policy book, said the Rev. Anne L. Burkholder. She is an associate dean at Emory University's Candler School of Theology in Atlanta as well as co-author of "Quick and Easy Guide to United Methodist Polity."
For centuries, the denomination has maintained a trust clause, which states that churches hold property in trust for the entire denomination.