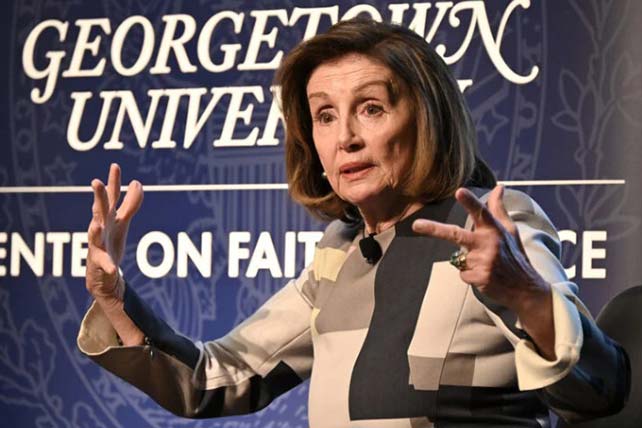 WASHINGTON (RNS) — Former House Speaker Nancy Pelosi issued a rare public rebuke of her home bishop on Thursday (March 23), voicing choice words for Archbishop Salvatore Cordileone and other prelates during a wide-ranging interview about the intersection of politics and her Catholic faith.
Her remarks came during an event hosted by Georgetown University's Center on Faith and Justice as part of a "Higher Calling" series focused on the faith of politicians. When Jim Wallis, the center's executive director, mentioned that people of faith "don't always agree with the leaders of our church on every matter of policy," Pelosi referenced tensions between herself and members of the U.S. Conference of Catholic Bishops as a result of her public advocacy for abortion rights.
Without mentioning him by name, Pelosi singled out Cordileone, who oversees her home archdiocese of San Francisco. Cordileone barred Pelosi from receiving Communion in churches under his purview last year because of her stance on legalizing abortion.
"I have a problem with my archbishop," she said, "and I figure that's his problem, not mine."
RELATED: Nancy Pelosi Now Barred From Communion in at Least Four Dioceses
Friction between bishops and Catholic Democrats over abortion, which the Catholic Church condemns, eventually spurred at least three other bishops to bar Pelosi from Communion in their dioceses as well. Despite the bans, Pelosi has continued to receive Communion in Washington and took part in the Eucharist while visiting the Vatican last year.
In June 2021, as bishops weighed barring President Joe Biden, also a Catholic, from Communion, a group of 60 House Catholic Democrats published a public letter urging clerics to avoid "weaponizing" the Eucharist. However, Pelosi was not among the signers of the document.
On Thursday, Pelosi said she is "pretty much in sync" with bishops on most other issues, but believes some clerics have been willing to "abandon the bulk" of their "social contract" in pursuit of their opposition to abortion.
She noted the bishops' opposition to the Affordable Care Act in 2010, which passed 13 years ago to the day on Thursday. The prelates were ultimately rebuffed by Catholic nuns who came out in support of the law, a move credited with helping pass the measure but also widely seen as one of the catalysts that triggered a Vatican investigation of U.S. nuns.
"Thank God for the nuns," Pelosi said.
Pelosi singled out Cordileone again later in the program while responding to a question about her support for LGBTQ rights. She noted the key role the bishop played in the passage of California's Proposition 8, briefly banning in the state same-sex marriage — which church leaders have decried as outside "God's plan for marriage and family."
"We've had very, very negative anti-LGBTQ stuff coming from our archbishop," she said, later adding: "He's made it very clear: Maybe we're not all God's children. Maybe we do not have a free will."
Pelosi struck a different tone when discussing Pope Francis, who she intimated has taken a more compassionate approach toward LGBTQ people. She also cited one of his encyclicals — "Laudato Si'," which focuses on climate change — while discussing the need to protect "God's creation."
However, Pelosi said she had "a little disagreement" with Pope Francis regarding China, taking issue with the Vatican's decision to allow the Chinese government to have a say in the selection of Catholic bishops in the country.
RELATED: Pelosi Pushes Back on Archbishop Who Denies Her Communion
"I don't think they gained anything from it," she said, referring to the Vatican.
The former House speaker also described at length her history of challenging the Chinese government on human rights issues, including her recent visit to Taiwan. She insisted more work needed to be done but added that cooperation between the U.S. government and China remains important on several issues — particularly the threat of global climate change.
"We do have to work together to find some common ground to protect God's creation," she said. "I'd consider the people of China God's creation."
The rest of the interview, which stretched nearly an hour and a half, touched on Pelosi's personal faith and approach to politics. She noted that her mother wanted her to be a nun, but Pelosi said she was more drawn to the priesthood, particularly the officiating of the Eucharist.