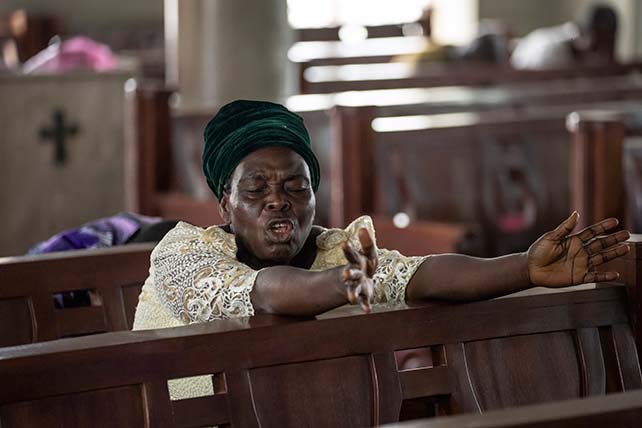 ABUJA, Nigeria (Morning Star News) – Fulani herdsmen and other terrorists killed a pastor and his two sons last month in Plateau state, Nigeria, and six other Christians were slain in the state in other attacks.
Herdsmen and other terrorists at about 11 p.m. on March 26 broke into the North Jos home of a family belonging to the Church of Christ in Nations (COCIN), killed Micah Gochin and kidnapped his son, the slain Christian's daughter said.
"My family home was invaded and attacked by armed men we believe are terrorists and herdsmen," Beyitmwa Gochin told Morning Star News, saying the loss was "devastating."
RELATED: Pastor's Son and Church Leader Slain in Kaduna State, Nigeria
West of Jos, in Riyom County, Fulani herdsmen on March 5 killed COCIN Pastor Musa Hyok and his two sons at midnight in their home in Ganawuri town, said resident Swachet Titus.
"A sad incident occurred here at Ganawuri on Sunday, 5 March, as our pastor, the Rev. Musa Hyok, and his two sons, Emmanuel Musa and Mang Musa, were killed by Fulani herdsmen and terrorists," she said in a text message to Morning Star News. "They were attacked at midnight in their house within the premises of the COCIN church."
In Kanke County's Kabwir town, Hannatu Bawa was kidnapped from her home on Feb. 21, an area resident said.
"A Christian woman, Hannatu Bawa, was abducted at about 3 a.m.," Julius Godiya said in a text message to Morning Star News.
Fulani herdsmen attacked two predominantly Christian communities in Bokkos County, Maiyanga and Nabel villages, at about the same time, 10 p.m., on Feb. 5, killing five Christians and wounding two others with gunshot, an area resident said.
RELATED: Terrorists Kill 27 Christians in Kaduna State, Nigeria
"The two injured victims are currently receiving treatment in a hospital," Marshall Sule said in a text message.
Alfred Alabo, spokesman for the Plateau State Police Command, said in a press statement that officers were investigating the attacks. A spokesman for the Nigerian Army in Jos, Capt. Oya James, said, "We are on their trail to get the bandits arrested and prosecuted."
Nigeria led the world in Christians killed for their faith in 2022, with 5,014, according to Open Doors' 2023 World Watch List (WWL) report. It also led the world in Christians abducted (4,726), sexually assaulted or harassed, forcibly married or physically or mentally abused, and it had the most homes and businesses attacked for faith-based reasons. As in the previous year, Nigeria had the second most church attacks and internally displaced people.
In the 2023 World Watch List of the countries where it is most difficult to be a Christian, Nigeria jumped to sixth place, its highest ranking ever, from No. 7 the previous year.
"Militants from the Fulani, Boko Haram, Islamic State West Africa Province (ISWAP) and others conduct raids on Christian communities, killing, maiming, raping and kidnapping for ransom or sexual slavery," the WWL report noted. "This year has also seen this violence spill over into the Christian-majority south of the nation… Nigeria's government continues to deny this is religious persecution, so violations of Christians' rights are carried out with impunity."
Numbering in the millions across Nigeria and the Sahel, predominantly Muslim Fulani comprise hundreds of clans of many different lineages who do not hold extremist views, but some Fulani do adhere to radical Islamist ideology, the United Kingdom's All-Party Parliamentary Group for International Freedom or Belief (APPG) noted in a recent report.
"They adopt a comparable strategy to Boko Haram and ISWAP and demonstrate a clear intent to target Christians and potent symbols of Christian identity," the APPG report states.
Christian leaders in Nigeria have said they believe herdsmen attacks on Christian communities in Nigeria's Middle Belt are inspired by their desire to forcefully take over Christians' lands and impose Islam as desertification has made it difficult for them to sustain their herds.
This article originally appeared here.