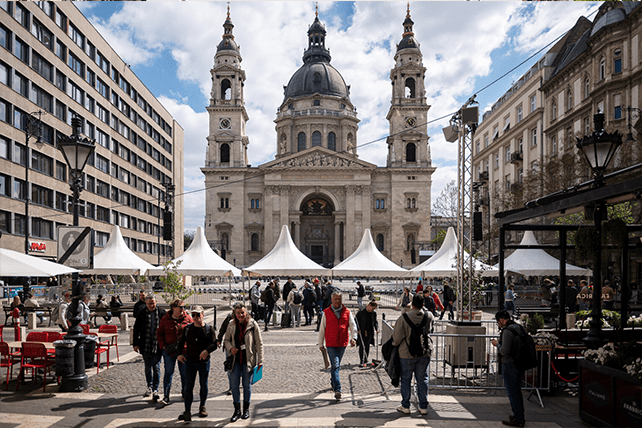 ROME (RNS) — Pope Francis' upcoming visit to Hungary will attempt to focus on common goals of the pope and Prime Minister Viktor Orbán — and their different approaches — regarding the challenges facing the world, especially the war in Ukraine.
Speaking to pilgrims gathered in St. Peter's Square on Sunday (April 23), Francis previewed his trip this weekend as "an opportunity to embrace once again a church and a people so dear to me."
"It will also be a journey to the center of Europe, over which the icy winds of war continue to blow, while the displacement of so many people puts urgent humanitarian questions on the agenda," he said.
According to the office of the United Nations High Commissioner for Refugees, more than 2.5 million Ukrainian refugees have crossed the border into Hungary since the beginning of Russia's invasion in February 2022.
Although widely known and criticized for its staunch anti-immigration policies, Orbán's government has pledged to aid Ukrainian refugees in the country. The Catholic Church in Hungary has also provided support, mobilizing aid efforts for displaced men, women and children.
In an interview with Vatican News published Wednesday, American Archbishop Michael Wallace Banach, the papal nuncio to Hungary, said the "speed and generosity" of Hungary's Catholics toward Ukrainian refugees is "an incredible demonstration of the vitality" of the church that Francis will greatly appreciate during his visit.
While in Budapest, the pope will visit the Church of St. Elizabeth of Hungary, where he is expected to meet with refugees as well as members of Caritas Hungary.
"Catholicism is vibrant here. It is a Catholicism that is strongly liturgically based, but also a Catholicism that has a great social outreach," Banach told Vatican News. "I think Pope Francis will recognize that on his visit to the Church of Saint Elizabeth, where he'll be meeting with poor people and with refugees. Not only will it be a moment of support for them, but a moment of recognition for what the Catholic Church has done in their favor."
While Orbán has gone to great lengths to welcome Ukrainian refugees, he has also drawn criticism for a perceived double standard as non-European migrants continue to be denied entry to Hungary.
Even as Orbán seeks to portray himself as the standard-bearer for European Christianity, statements by the prime minister and the pope, particularly on immigration, are widely divergent.
In past speeches, Orbán referred to migration as a "Trojan horse of terrorism" that threatens Europe's Christian identity, while Francis has often denounced increasing anti-migrant sentiments in Europe.