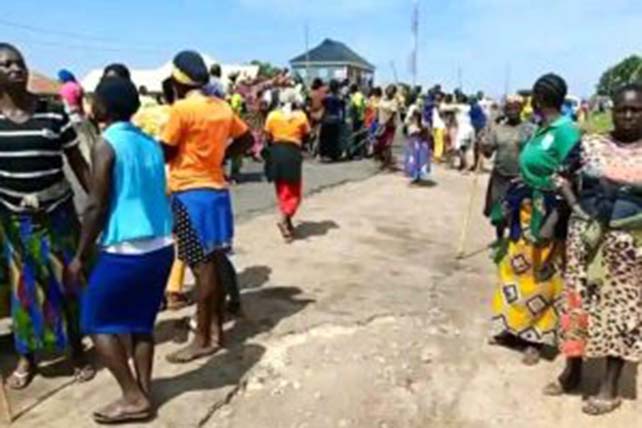 ABUJA, Nigeria (Morning Star News) – In 11 days of attacks through Wednesday (April 26), Fulani herdsmen killed 18 people and wounded others in predominantly Christian villages of Plateau state, Nigeria, sources said.
The herdsmen attacked 11 communities in Jos South, Riyom, Barkin-Ladi, Mangu and Bokkos counties.
Three Christians in Darwat village were wounded in attacks as they worked on their farms on Wednesday (April 26), Dalyop Solomon Mwamtiri, an attorney with the Emancipation Centre for Crisis Victims in Nigeria (ECCVN), said in a press statement.
"The attackers were identified by Christian victims as Fulani terrorists," said Mwamtiri, adding that "Gyang Danbwrang, Joshua Gyang and Mark Gyang were shot and injured by the terrorists."
RELATED: Muslim Fulani Herdsmen Kill Christians With Machetes While Farming in Nigeria
The Rev. Gwong Dachollom of the Church of Christ in Nations (COCIN) in Darwat was ambushed, shot and cut with a machete along the Darwat-Wereng Camp route at about 3 p.m. on Monday (April 24), area resident Rwang Tengwong said.
"The pastor was hacked and his motorcycle carted away by his attackers," Tengwong said in a message to Morning Star News, adding that his injuries are life-threatening. "He's presently receiving medical attention at Vom Christian Hospital of the COCIN."
In Farin Lamba village of Jos South Local Government Area, Fulani terrorists killed six Christians on Tuesday (April 25), said area resident Ron Thomas Gyang in a message to Morning Star News.
Mwamtiri said in his statement that while the "burial of the six Christians killed [April 25] at Farin Lamba of Turu in Vwang was ongoing, another tragic incident of armed attack was carried out against Christians in Gako community in Riyom LGA, where a Polytechnic graduate, Mr. Philip Bitrus, was shot dead by Fulani militias."
Tengwong said that on Sunday night (April 23), "Fulani militias" killed six Christians and wounded two others "during coordinated attacks on residents of Wereng community and Bachi District of Riyom LGA as well as Tapo village of Heipang District in Barkin Ladi LGA."
"Two Christians were killed in Wereng village of Riyom Local Government Area, while the other four persons were killed in Tapo village of Heipang in Barkin Ladi LGA," Tengwong said.
The attacks were simultaneously coordinated between the hours of 8 p.m. and 10 p.m., he said.
"In Wereng, a household was attacked, leaving one family member dead, and a second family member was ambushed while he was on his way to Kwi community. In Tapo, nine Christians were ambushed by the terrorists while they were on their way from another village. Four of them were killed, while five of them escaped with injuries."
Survivors said the assailants spoke Fulfulde, he said.
RELATED: Violence in Plateau State, Nigeria Escalates with more Muslim Fulani Herdsmen Attacks
"They laid an ambush at Tapo forest and sporadically opened gunfire at them," Tengwong said. "These Christians were returning home from Heipang, the District headquarters in the Barkin Ladi Local Government Area."
He gave the name of one of the Christians killed as Tapshak Guwus, 24, a student at the Plateau State Polytechnic, Barkin Ladi.
Area community leader Shwamut Ishaku Elisha said in a message to Morning Star News that five Christians were killed and dozens of houses burned down in Murish, Dungmunan and Manja villages of Mangu County in attacks at about midnight on April 16.
Mwamtiri of the ECCVN confirmed killings of Christians this month in the Murish community of Mangu LGA, Marish and Maitunbi villages of Bokkos LGA, Kuru Station in Wereng and Kwi of Riyom LGA, Rawuru of Fan and Tapo of Heipang in Barkin Ladi LGA, and Farin Lamba of Turu-Vwang of Jos South LGA.