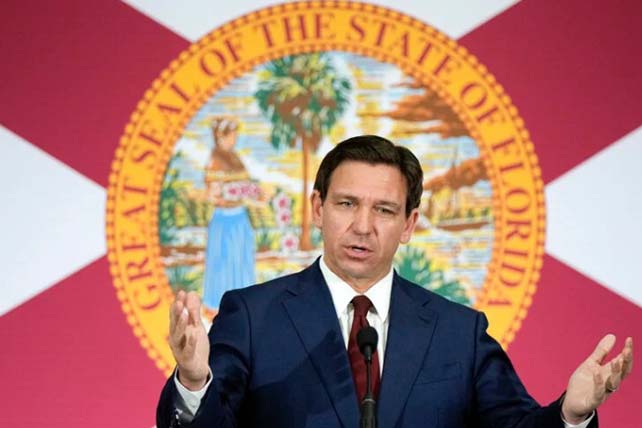 (RNS) — On Monday (May 22), Florida Gov. Ron DeSantis strode onstage in Orlando and stood before a podium, silhouetted against a giant American flag. The crowd, attendees at a gathering of the National Religious Broadcasters, a Christian group, leapt to their feet. Some applauded, while others held up cell phones to record the moment.
DeSantis began with a line he uses often — "Welcome to the free state of Florida!" — before launching into a stump speech recounting his proudest accomplishments as governor, such as removing books from public libraries and "waging a war on woke." In a nod to his audience, he sprinkled his remarks with religious references, lauding churches that refused to close during the pandemic and encouraging listeners to "put on the full armor of God."
As he closed, DeSantis gripped the podium and leaned forward.
"We're proud of what we've accomplished in Florida, but I can tell you this: I have only begun to fight," he said.
Technically, it wasn't a presidential campaign announcement — that would happen two days later, when DeSantis joined Elon Musk for a glitch-ridden appearance on Twitter Spaces. But it was telling that DeSantis, who is Catholic, chose to speak to a largely evangelical Christian audience the same week he launched his White House bid. With growing uncertainty surrounding evangelical support for former President Donald Trump, DeSantis is courting one of the Republican Party's most sought-after constituencies using a message that frames himself as a sort of spiritual warrior — a move that may attract faith leaders who traffic in similar rhetoric.
RELATED: Ron DeSantis Tells Christian Communicators at NRB 2023 He's 'Waging a War on Woke'
DeSantis beta-tested this approach in November, when the governor's wife, Casey, tweeted out an advertisement that framed him as a "fighter." The ad featured images of DeSantis and his family while a narrator — who, observers noted, had the feel of a mid-20th-century Protestant preacher — declared: "On the eighth day, God looked down on his planned paradise and said, 'I need a protector.' So God made a fighter."
Nothing similar has been produced by DeSantis' fledgling presidential campaign, which, only a few days old, does not appear to have launched a robust faith outreach effort as of yet. His team also has not assembled a list of religious advisers or endorsers, nor is there a sizable outside effort to drum up support among conservative Christians, such as the "Pastors for Trump" group that formed around the same time the former president announced his 2024 bid.
But as the primary season begins in earnest, DeSantis may lean on an emerging group of culture-warrior religious leaders and influencers who, while not yet endorsing him, have shown affinity for his approach to politics in the past.
Among the governor's more vocal religious fans is Tom Ascol, a firebrand, media-savvy figure known for leading a conservative wing of the Southern Baptist Convention. In November, Ascol tweeted out footage of himself leading a prayer at a DeSantis event alongside the caption "God has blessed the state of Florida by placing him in this office as His servant for our good."
Ascol, who pastors a church in Florida, later wrote about the prayer on his blog. He again heaped praise on DeSantis, saying he stands "against the woke crowd and the intimidation and overreach of various federal officials over the last 4 years." He publicly lauded DeSantis again in February, tweeting out a video of him standing in front of a podium with a placard that read "Government of laws, not woke politics."
"We need more governmental leaders like" the Florida governor, Ascol tweeted.
The two men share a similar disdain for what they deem to be "woke." Ascol, head of Founders Ministries, has pushed back on what he sees as liberal ideologies in the SBC, and when he launched an unsuccessful bid to become the denomination's president last year, his supporters issued a statement in which they declared "God is not Woke."