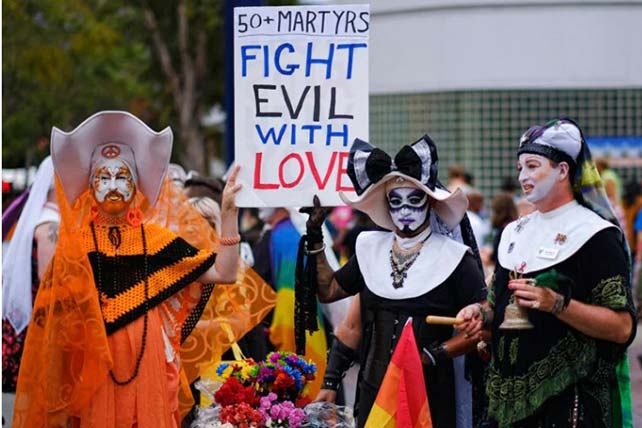 (RNS) — The discourse persists over the Sisters of Perpetual Indulgence's participation in the Los Angeles Dodgers' upcoming Pride Night celebration, with right-wing worship leaders, major league baseball players and bishops joining conservative Catholic groups in opposition to the Sisters' inclusion in the event.
Meanwhile, at least one Roman Catholic nun has publicly spoken in support of the Sisters "for their financial assistance to those in need."
"While I am uncomfortable with the Sisters of Perpetual Indulgence using the nuns' old garb to draw attention to bigotry, whether Catholic or not, there is a hierarchy of values in this situation," wrote Sister Jeannine Gramick in a letter to the Dodgers organization.
"The choice of clothing, even if offensive to some, can never trump the works of mercy," according to the letter published on New Ways Ministry, a Catholic outreach that Gramick co-founded to advocate for LGBTQ people.
The Sisters of Perpetual Indulgence — a nonprofit that uses drag, fundraising and religious imagery in its social advocacy — was founded in 1979 in San Francisco after three men went out into the streets on Easter weekend wearing the traditional habits of nuns. The organization, described on its website as a "leading-edge Order of queer and trans nuns," emerged as a charity organization when one of its early events at Metropolitan Community Church raised $1,500 for gay Cuban refugees in 1980.
RELATED: 'God Cannot Be Mocked'—Dodgers' Blake Treinen Criticizes Team's Decision To Honor Drag 'Nun' Group
The Sisters noted that they are a charity organization of human rights activists who are "both silly and serious" and whose mission is "to uplift our community and all marginalized groups, especially the ones ignored by larger organizations, spiritually oriented or otherwise."
Regarded as "nuns for the gay community," the Sisters are not Catholic nuns, nor officially affiliated with any specific religious organization.
The Dodgers disinvited the Sisters from the team's June 16 Pride Night celebration  — during which the organization's LA chapter is receiving a Community Hero Award — after pushback from groups such as Catholic Vote and Catholic League that accused the organization of degrading their faith. U.S. Sen. Marco Rubio criticized Major League Baseball Commissioner Rob Manfred for allowing the team to honor the group, which Rubio said "mocks Christians through diabolical parodies of our faith."
That decision sparked its own backlash from several LGBTQ+ groups, with LA Pride and the Los Angeles LGBT Center deciding to pull out of Pride Night.
Soon after, the Dodgers announced the Sisters were once again welcomed to the team's annual Pride Night. The Sisters accepted the Dodgers' reinvitation and now are also participating in the nearby Angels' Pride Night on June 7 in Orange County after Anaheim Mayor Ashleigh Aitken invited the Sisters in the wake of the Dodgers' decision to remove them from their event. It's a move the Roman Catholic Diocese of Orange opposed.
Now, Catholic Vote and Catholic League are calling on Catholics to boycott the Dodgers Pride Night.
Catholic Vote said it's seeking to raise $1 million to place ads in Dodger radio stations against the Sisters' participation in Pride Night.
Meanwhile, Catholic League said it has reached out to the more than 300 parishes under the Archdiocese of Los Angeles as well as to its Catholic schools to raise awareness against the Sisters.
The Catholic groups have lambasted the Sisters' recent Easter event that featured "Foxy Mary and Hunky Jesus" contests. Catholic League has referred to the Sisters as "bigots" and took offense to a "Condom Savior Mass" event.
Catholic bishops have also joined the fray.
Los Angeles Archbishop José H. Gomez shared a statement on Twitter from his diocese, calling on Catholics to "stand against bigotry and hate in any form" and to have "respect for the religious beliefs of our communities of faith."
RELATED: Dodgers Apologize, Reinvite Queer 'Nun' Group To Annual Pride Night
"The decision to honor a group that clearly mocks the Catholic faith and makes light of the sincere and holy vocations of our women religious who are an integral part of our Church is what has caused disappointment, concern, anger, and dismay from our Catholic community," the statement read.