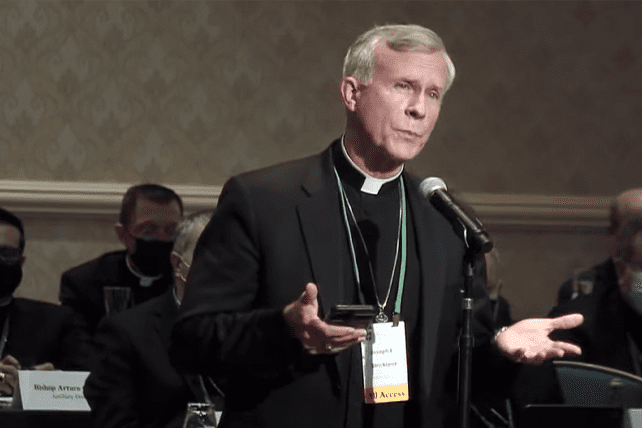 (RNS) — The Vatican subjected the Catholic Diocese of Tyler, Texas, to an apostolic visitation last week, a rare disciplinary investigation by the Holy See into the diocese overseen by Bishop Joseph E. Strickland, a controversial firebrand conservative cleric who has publicly criticized Pope Francis.
A representative for the diocese confirmed reports of the visitation to Religion News Service on Monday (June 26), saying that it occurred last week.
"It did happen, yes, and we're not able to share any information beyond that," the representative said.
The U.S. Conference of Catholic Bishops referred RNS to the Vatican, whose representatives had earlier declined to confirm or deny that the visitation had occurred.
Reports of the investigation began to circulate over the weekend in various conservative media outlets, including LifeSite and the Church Militant, but it was first confirmed by the diocese itself to the National Catholic Reporter on Monday.
The visitation, a form of church discipline used to rein in clerics seen by the Vatican to be problematic, comes in the wake of years of controversy surrounding Strickland. An outspoken conservative with an active Twitter presence, Strickland has infuriated critics for supporting priests who defied their own Catholic bishops by refusing to receive the COVID-19 vaccine. Strickland also offered a prayer at a "Jericho March" event in Washington, D.C. in the days leading to the Jan. 6, 2021, insurrection at the U.S. Capitol.
Strickland's defiance had already earned him a personal rebuke in 2021 from Archbishop Christophe Pierre, the Vatican's representative in the United States, or papal nuncio. According to a source familiar with the encounter, Pierre confronted Strickland about his Twitter feed.
But efforts to rein in Strickland through private conversations appeared unsuccessful. If anything, the bishop's comments have grown more strident: In May, Strickland openly challenged Pope Francis, using Twitter to accuse the pontiff of "undermining the Deposit of Faith," a term meaning the divine revelation behind the church's teaching.
But long before then, in January 2022, and again in July, Strickland's remarks on COVID-19 and his attack on Francis had prompted National Catholic Reporter columnist Michael Sean Winters to call for the Vatican to intervene.
"It is time for an apostolic visitation to Bishop Strickland," Winters wrote.
The Vatican has investigated U.S. clerics in the past. In the 1980s, the Congregation of the Doctrine of the Faith — overseen by the man who would become Pope Benedict XVI — subjected Archbishop Raymond Hunthausen, an outspoken liberal cleric, to an apostolic visitation.
Claire Giangravè contributed to this report from Rome.
This article originally appeared here.