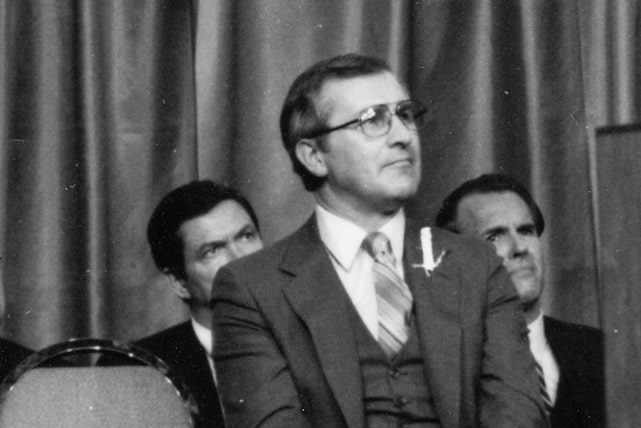 (RNS) — Arthur Gay, an evangelical leader who oversaw the National Association of Evangelicals when President Reagan gave his historic "evil empire" speech, has died at the age of 86.
Gay was president of the association from 1982 to 1984 and held the same role at World Relief, its humanitarian arm, from 1991 to 1996.
Though his leadership began decades ago, Gay's influence endured through the present day, leaders of the organizations said in announcing his death.
"Art Gay was one of the most gracious leaders I have ever known. He was a great encourager, always curious and wanting to learn more," said Galen Carey, the NAE's vice president of government relations, in a statement. "Art was an example of generous orthodoxy, speaking the truth in love."
Gay led the NAE during a time when Reagan was seeking the continuing support of U.S. evangelicals. The late president first spoke at the association's 1983 convention.
"The National Association of Evangelicals community, from coast to coast in our great land, deeply appreciates and values his love for the truth of the Bible and his commitment to its great moral values," Gay said in his introduction.
RELATED: NEWS STORY: Religious Leaders Recall Reagan's Life and Legacy
In the speech, Reagan criticized leaders of the then-Soviet Union and the "so-called nuclear freeze solutions proposed by some." He opposed such proposals as counter to American "principles and standards," including a belief in God.
"(I)n your discussions of the nuclear freeze proposals, I urge you to beware the temptation of pride — the temptation of blithely declaring yourselves above it all and label both sides equally at fault, to ignore the facts of history and the aggressive impulses of an evil empire, to simply call the arms race a giant misunderstanding and thereby remove yourself from the struggle between right and wrong and good and evil," the 40th U.S. president told the NAE after Gay's introduction.
When Reagan died in 2004, the Rev. Richard Cizik, then NAE's vice president of governmental affairs, told Religion News Service in an interview: "Obviously, not everybody agreed then or now about Ronald Reagan's agenda, but there's no disputing that the 'evil empire' speech he gave to the evangelical leaders in 1983 helped inspire a chain reaction for liberty that ended the Soviet Union."