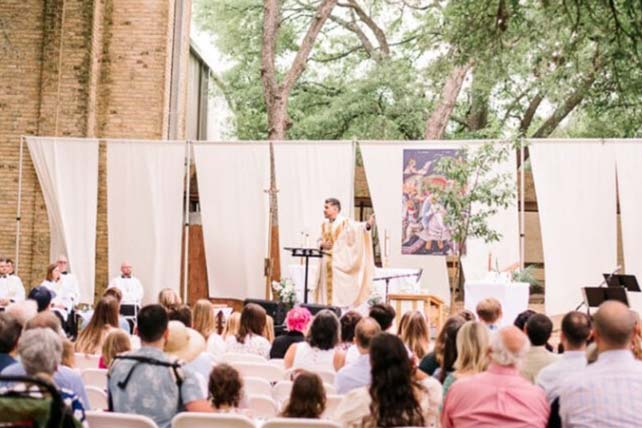 (RNS) — When the Anglican Church in North America broke off from the Episcopal Church and the Anglican Church of Canada in 2009 over their acceptance of LGBTQ clergy and same-sex marriage, the split was not exactly amicable.
Years of infighting and slow, grinding property lawsuits that followed the split have kept tensions between the two groups alive. So when an ACNA church plant in Austin, Texas, announced in July that 80% of the congregation supported joining the Episcopal Church, it raised eyebrows.
Founded years after the schism, Resurrection Anglican Church in South Austin is one of three parishes that have departed ACNA's Dioceses of Churches for the Sake of Others in the past two years. Two of those parishes, Resurrection and The Table in Indianapolis, have pursued affiliation with the Episcopal Church, with the third, St. Mary of Bethany in Nashville, Tennessee, remaining unaffiliated.
RELATED: Lawsuit Accuses ACNA Church of Negligence That Resulted in Child Sexual Abuse
If you ask the Rev. Shawn McCain Tirres, rector of Resurrection Anglican Church, the real story of the church's departure isn't about denominational politics. It's about a local parish that faced difficult questions head-on, and came out the other side.
"It feels like we did the impossible," McCain Tirres told Religion News Service in a recent interview. "We really fought for this, we stuck this out and we trusted God and each other. We had a lot of hard conversations. And here we are. We're still together. Look what God has done."
RNS spoke to McCain Tirres about his parish: how it formed, the ways it has changed and what ultimately led it to the disaffiliation. This interview has been edited for length and clarity.
How was Resurrection founded?
I have a large Latino Catholic family and family in West Texas. While I was at a family reunion out here, I had this moment where I felt the invitation of the Holy Spirit to come here and get to work.
In 2015, my family and I moved to Austin from Santa Cruz, California, sent from the church that we had planted there with another family. It was word-of-mouth, a lot of prayer and in-home gatherings. We gathered a critical mass of people and started a launch team, then finally launched Easter of 2015.
What makes Resurrection distinct?
We throw a lot of parties in the neighborhood at pubs and parks. Our culture of evangelism isn't pushy. We have what I would call a very "fiesta" culture, which is making a ton of food, throwing a huge party and inviting everyone in earshot.
Another distinction is that we are very high church. We have a lot of incense, smells and bells, robes, a strong sense of reverence. People have called us a "low-key high church." We're going to have a good time, but we're standing in the presence of God.