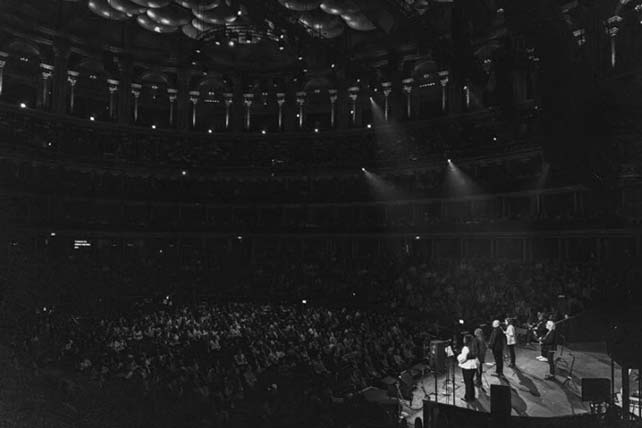 (RNS) — A wave of energy and emotion coursed through the 5,000-person crowd in London's Royal Albert Hall in early May as the band onstage debuted its latest album.  
Surrounded by the Victorian era architecture, the audience stood for The Porter's Gate, a self-described "worship project" founded in 2017 by longtime worship leader Isaac Wardell and his wife, Megan. Though the songs were new to the audience, many sang along and were visibly moved.
"It was a really holy, almost out of body experience to see the songs impacting people," said Daniel Whitehead, CEO of Sanctuary Mental Health Ministries and one of the collaborators on the album.
RELATED: 'I Didn't Know Myself Anymore'—Lauren Daigle Reveals Mental Health Struggles Shaped Her New Album
Though worshipful, the songs weren't about flying away to glory or leaving the pain of this world behind. Instead, they aimed to make space for those feeling hopeless and abandoned, while reminding listeners that God is present in the here and now.
"As we were singing these songs, I was aware of my own grief, and my own faith at the same time, and the consolation of God," recalled Canadian Christian artist Matt Maher, one of the musicians onstage. "It felt integrated in the best way. "
"Sanctuary Songs," a 12-track album inspired by conversations about mental health and faith and released on Friday (Sept. 15), is another timely and topic-driven album from The Porter's Gate that follows earlier projects on climate justice, lament and vocation. It was birthed in partnership with Sanctuary at a five-day retreat in fall 2022 where a group of roughly 20 Sanctuary staff and 30 songwriters — including Jon Guerra, Doe Jones and Andrew Peterson — gathered on an island off the coast of Vancouver, Canada, to craft the album.
Many of the musicians, who represented a range of theological and cultural backgrounds, had personal connections to the topic.
"In that particular year, when Isaac asked me about this retreat, I had been struggling a lot with anxiety, I think like most people during the pandemic. And for the first time I came to an awareness of the physical symptoms of anxiety," Maher told Religion News Service. "I realized I experienced them all for a long time. I just didn't have the right language."