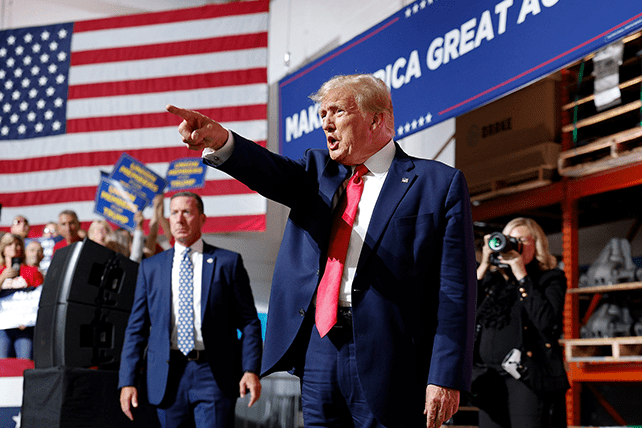 (RNS) — President Donald Trump, who has touted himself as the "most pro-life president ever" and whose Supreme Court appointments clinched the majority that would overturn Roe v. Wade, has pivoted away from more strident anti-abortion rhetoric and railed against a six-week abortion ban, signed by Florida Governor Ron DeSantis, as a "terrible thing and a terrible mistake."
Earlier this year, Trump blamed the "abortion issue" for the GOP's lackluster results in the 2022 midterm elections. And during a Sept. 18 appearance on "Meet the Press," he pledged to work with Democrats to pass national abortion legislation if elected.
His stance is raising frustration among anti-abortion activists and spurring his Republican primary opponents to try to peel away conservative religious voters from the former president.
"While there are a number of areas that both sides on the abortion issue can come to an agreement on, like paid maternity leave and childcare aid, there is no compromise on whether abortion should be legal or not," Abby Johnson, who runs the anti-abortion group And Then There Were None, which she describes as a ministry, said in a statement.
"No specific number of weeks is acceptable past conception for those of us who believe in the sanctity of life. Any candidate who is truly pro-life should be able to vow to sign any pro-life legislation that comes across their desk. President Trump's disappointing comments only serve as an avenue for pro-lifers to find another candidate to support," Johnson added.
Johnson, a onetime Planned Parenthood staffer turned anti-abortion activist, has been a staunch champion for Trump. She made a speech at the 2020 Republican National Convention in which she referred to Trump as the "most pro-life president we have ever had," and she participated in a faith-themed Jericho March — which lended support to Trump's erroneous claims that the 2020 election was stolen — in the weeks leading up to the Jan. 6 insurrection at the U.S. Capitol.
Jeanne Mancini, president of the anti-abortion March for Life, an annual anti-abortion protest in Washington, D.C., that featured Trump as a headlining speaker in 2020, sent a statement to Religion News Service that praised state laws passed following the fall of Roe v. Wade banning abortion after cardiac activity can be detected — often around six weeks into a pregnancy.
"Every pro-life governor who courageously signed heartbeat protections was re-elected in 2022," Mancini said. "There is no reason why any politician, particularly one who claims to be pro-life, cannot support lifesaving measures, with at least a minimum 15-week federal standard which protects children past the point at which they can feel pain. It is the right, compassionate and even popular thing to do."
Many national GOP politicians have shied away from making abortion an issue as voters in Republican-leaning states of Kansas and Ohio have rejected referendums or related initiatives led by anti-abortion advocates. Trump, who leads the Republican primary race by double-digit percentage points, may be gauging how to avoid being vulnerable on abortion in the general election. But the shift could have more immediate consequences for Trump, who has long benefitted from robust support among white evangelicals — a group that disproportionately opposes abortion in all or most cases compared to other religious groups, according to Pew Research surveys conducted last year.
Florida Gov. Ron DeSantis, often seen as most likely to appeal to evangelicals should Trump falter, made sure to bring up Trump's recent statements in the second Republican presidential debate on Tuesday (Sept. 26), which the former president skipped.
"I reject this idea that pro-lifers are to blame for midterm defeats," DeSantis said. "The former president — he's missing in action tonight … He should be here explaining his comments to try to say that pro-life protections are a 'terrible thing.'"