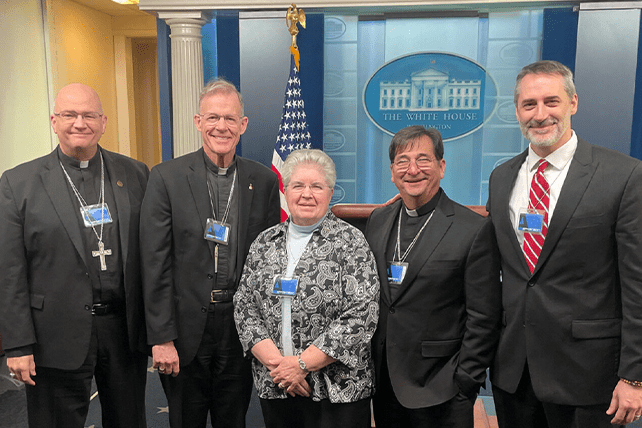 WASHINGTON (RNS) — A small group of Catholic leaders, including three bishops and a nun, met with senior White House officials Friday morning (Nov. 17) to discuss climate change, framing the issue as a moral concern and citing inspiration from Pope Francis.
Archbishop John Wester of Santa Fe said the meeting was meant to present the message of Pope Francis' "Laudate Deum," a 12-page document published last month that served as a follow-up to his 2015 encyclical on the environment.
"We just wanted to magnify that, amplify it and support it with the leaders here in our country," Wester told Religion News Service, noting that the idea for the meeting was hatched shortly after "Laudate Deum" was published.
Also in the room were Bishop Edward Weisenburger of Tucson, Bishop Joseph Tyson of Yakima, Sister Carol Zinn, executive director the Leadership Conference of Women Religious, and Lonnie Ellis, who oversees the Catholic group In Solidarity.
Ellis, who helped orchestrate the gathering, said the group met for 45 minutes with John Podesta, President Joe Biden's senior adviser for clean energy innovation and implementation, John McCarthy, senior adviser for political engagement and Ali Zaidi, the president's National Climate adviser.
"We started talking about how Pope Francis has really opened this up as a moral issue," Ellis said. "I think they received that really well."
Weisenburger agreed, saying he and others stressed that the issue of climate change "is a matter of ethics, spirituality and our faith."
The bishops had traveled from Baltimore, where the annual fall gathering of the U.S. Conference of Catholic Bishops had just ended. At that meeting the nation's bishops voted to approve materials to be distributed to parishes ahead of the 2024 election that some Catholics criticized for placing a higher priority on abortion than climate change.
The bishops who met with the White House officials noted that they only represented themselves and their diocese at the meeting, although USCCB staff were supportive of their efforts.
According to Weisenburger, the group celebrated the passage of the Inflation Reduction Act, the landmark climate bill pushed by President Joe Biden's administration, but also spent time discussing rules being developed by the Environmental Protection Agency. The group was pointedly interested in EPA rules regulating methane, carbon pollution from power plants, emissions standards and soot pollution.
"We were actually pretty much in agreement on these issues, especially the importance of doing all that we can to keep the earth sustainable, reduce the greenhouse gases and do more carbon capture and sequestration from large power plants," Weisenburger said.
The White House did not immediately respond to request for comment about the meeting.