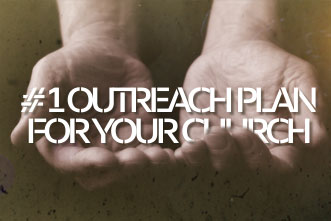 Every mission-minded pastor has a passion to expand the Kingdom of God through the labors of their ministry. It's a part of obedience to the call of Christ. The challenge is, what is the best way to impact the community to which God has called us to reach?
Ed Keller makes an important observation in his excellent article "Unleashing the Power of Word of Mouth: Creating Brand Advocacy to Drive Growth," published in the Journal of Advertising Research (Vol. 47, No. 4, Dec 2007, pp.448-452). "The evidence is abundantly clear: Word of mouth (WOM) is the most important and effective communications channel." The Journal of Advertising Research also notes that 75 percent of all consumer conversations about brands happen face-to-face, 15 percent happen over the phone and just 10 percent online.
This is highly relevant information for those pastors who might be tempted to think that social media and other forms of mass marketing have reduced the effectiveness of personal, face-to-face communications. There is nothing more powerful, in God's design of humanity, than the impact of personal interactions. We do well to remember that the Kingdom of God exploded, in a pre-Internet environment, from a small gathering of fervent believers until it conquered the Roman Empire.
It is widely accepted and supported by Direct Marketing Association studies, that multichannel marketing to the same prospect several times can dramatically improve the results for the bottom line of results. How can the church leverage this information into more effective outreach initiatives? The evidence suggests a multichannel strategy that utilizes our marketing campaigns as opportunities to mobilize and leverage our congregants so they can be more effective in their personal spheres of influence.
It makes sense to arm one's congregants (the personal product evangelists of your church) with branded invitation cards that match the distinctive graphics of a direct-mail piece. The recipient of your direct-mail advertising (DMA) piece has a substantively different reaction when they have already been handed a co-branded invitation card from an acquaintance. This strategy marries the power of two basic advertising principles.
But these strategies pale in comparison to the effectiveness of what I call the personal character impact (PCI) of God's people on the unchurched. Jesus laid out this marketing strategy when He called His Church "the light of the world." (Mt. 4:14) In the same verse, Jesus added the observation, "A city set on a hill cannot be hidden."
What is this light that has the power to shine in the darkness and draw men to Christ? It is the light of transformed human character. When people at work observe someone who has been transformed by the activity of the Spirit, they cannot help but notice. Consider the peaceful Christian being approached by a workmate. "How can you have such a calm demeanor in your financial situation? You could lose everything!"
Hear the response of the faith-filled believer. "I have a peace that passes understanding because I have learned to trust in the goodness of my God. He has my back at all times and is fully committed to the highest outcomes for my life. No circumstance can assassinate the goodness of my God in my heart!" Now we have arrived at real, life-changing marketing power! And it's free!
Christian leaders need to remember, in the midst of their godly quest to increase their church's sphere of influence, that the power of changed lives has always been the greatest marketing coup of the church. That is why churches need to consider discipleship as an inherent part of their marketing program. It's also why I sold ConnectionPower.com and founded SpiritualProgress.com. After years of speaking and designing software to help the church to grow wider, I came to understand that God was calling me to play a part in helping the church grow people deeper.
So, what is the best marketing campaign for your church? Think multilevel! Combine word of mouth (WOM) with direct-mail advertising (DMA) and empower your people to make personal character impacts (PCI) on everyone within their sphere of influence.