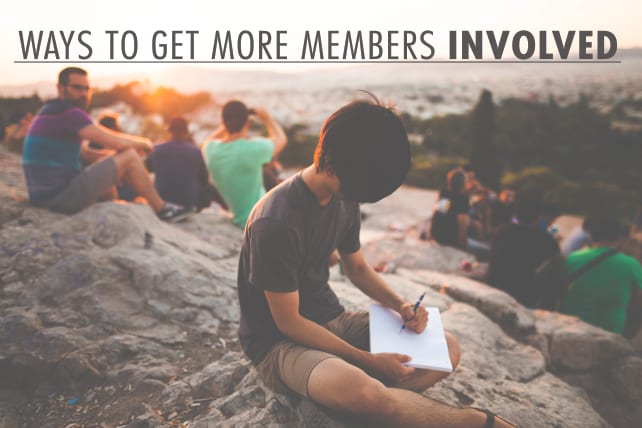 Most of us who lead churches have regular attenders who aren't involved in the congregation. These folks sometimes frustrate us because we can't imagine why genuine believers just sit on the sideline. Rather than get frustrated, try this strategy to move them toward involvement:
Pray for more laborers. Jesus taught us to pray this way (Luke 10:2). Frankly, if we're not at least praying like Jesus commanded, we don't have much right to complain about uninvolved members.
Don't assume that every uninvolved member doesn't care much about the Lord's work. That might be the case, but not always. If you assume that everyone doesn't care, you'll approach every situation with a critical spirit. That's not helpful.
Understand that every uninvolved member has a story. Some of these folks have home situations that make it difficult to serve much through the church. Some have served in the past but were wounded—and have not yet dealt with that pain. Some see themselves as unworthy of service. Others really are just lazy and unconcerned. In any case, you need to know their story to know best how to lead them.
Create a clear process to get involved, and tell your congregation how to do it. Then tell them again. And again. Regardless of how many times we tell people how to get involved, they don't always hear it the first time. And, they can't hear it well if our process is non-existent or unclear.
Sponsor a one-time "Membership Restart Class." Set up a "restart" class that openly invites uninvolved members to re-engage, discover their spiritual gifts and get busy in the church's work. Make a big deal of the class so folks are actually excited about the possibility.
Plant a new ongoing small group from uninvolved members. Select the strongest leader you can find, and let him or her build the class. Again, I'd be upfront about the purpose when recruiting group members: "I'm building a class to get folks more involved. I'd love to have you join us so all of us can do the Lord's work more."
Talk one-on-one with uninvolved members. Pulpit or bulletin announcements seldom move these folks. Personal conversations can, though, especially if the church is ready to follow up.
What's worked for your church? Help us learn from each other.