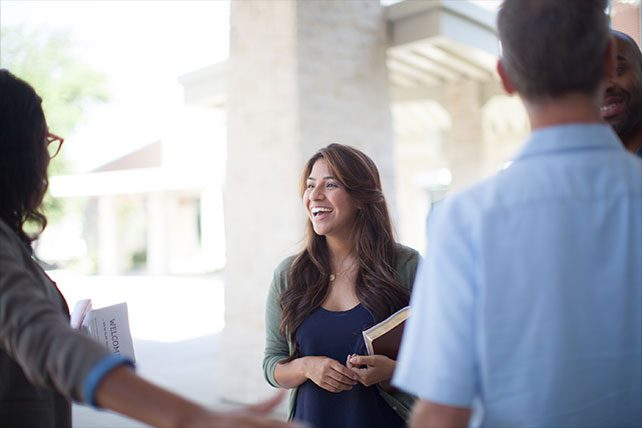 Fight? Going to Church? Weekly? Church member? Yes, indeed! We live in such a swirlingly busy age with countless distractions and endless entertainments and overly-busy schedules. How easily and how quickly it can be that the gathering together with the people of God in your local assembly can be missed one week because of a scheduling conflict. And then it becomes easier the next week. And the next. And so on. So the title is intentional and the motive of this essay is pastorally & compassionately exhortational: FIGHT to make going to church a priority to attend your local church on a weekly basis.
Going to Church Can Be Such a Hassle
I understand things come up. Illness happens. Vacations occur. There are providential workings of God that may cause a child of God to miss church. But please hear this: missing church should not be the norm; it should be the exception. It is your local church where Christ promises to walk amidst His people and bless them by speaking to them and ministering to them in very real and special ways.
Additionally, this essay is for the true Christian. This is not just another paper urging the unsaved to just 'get to church'. This essay is for those whom God has saved and who have obediently committed themselves to a local church and submitted themselves to the leadership of that church. This is an essay for the saved to reorient the focus on the Lord and on His church because this in our culture can distract and disrupt and cloud our minds at times.
7 Reasons to Fight for It
My argument? Fight with all your might for going to church weekly. I'll provide seven simple reminders.
1. For the sake of your HEART.
Dear Christian, bought with the precious blood of Christ, as a newborn baby long for the pure milk of the Word so that you may grow in respect to salvation (1 Peter 2:1-2). O child of God, have you tasted the kindness of the Lord? Have you partaken of the sweetnesses of His love for you? Do you hunger for Him and thirst for righteousness? Attend church for the sake of your heart so that you can grow as you receive the food of the Word. No matter what you tell yourself and how you seek to justify it, it's impossible for you to grow spiritually if you continually find yourself absent from the body of Christ. For the sake of your heart, attend your church to be fed God's Word through the preaching and to hear Christ address you and the Spirit to mold your heart through the truths heralded.
2. For the sake of your CONGREGATION.
Dear Christian, Christ never called you to a life of lone-ranger isolationism. Christianity is never my Christianity. It's always a community, joint, shared journey. And that journey is with other predestined travelers who are progressing and traveling to glory just as you are. Don't neglect them! No matter what you tell yourself, private times in the Word (as important as that is!), and family worship (as important as that is!), and listening to sermons online (as helpful as that can be!) is not a substitute for actually going to the gathering with your fellow believers to worship the crucified and risen and interceding Christ together. Your fellow believers who have covenanted together love you. When you're not there, they wonder where you are (at least, they *should*). They care for you and wonder if everything's OK. We minister together as a body. A body has many members. When one member is absent, there's something incomplete about the body. So make it a point, a deliberate point: going to church with your congregation.