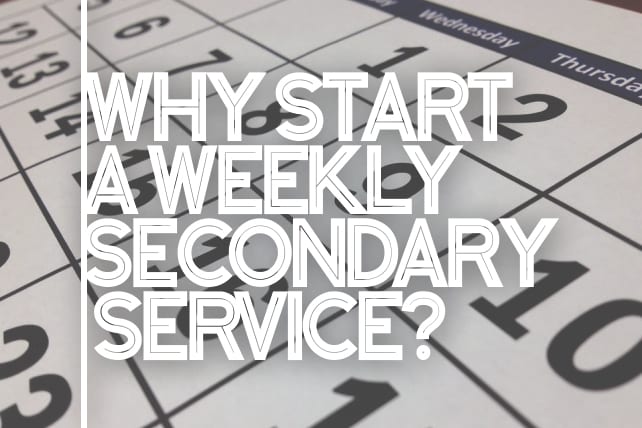 I'm sharing this internal NEHBC document with other pastors who may be interested in starting a secondary weekly worship service at their church. This document explains how we do it at NEHBC. If you have more questions, feel free to email me.
MIDWEEK WORSHIP
Wednesday nights, 7-8 p.m., Jan – Thanksgiving each year.
Purpose of Midweek Worship:
1 – It is very difficult for our pastors to lead our congregation with only one main gathering of the church each week. We need a secondary major gathering of the church each week to reconnect, share info about our church life, teach, train, etc.
2 – Our congregation benefits from a secondary opp to gather midweek for renewal—spiritually and relationally with their local community of believers.
3 – We need a secondary worship service for other preachers in our congregation to get opportunities to preach and for emerging preachers to practice preaching. New preachers should be developed within the local church.
4 – AWANA and the midweek student ministry gathering are essential to the discipleship of our <18s. Thus, we need a forum for parents or they will be less likely to bring their kids.
5 – As we reach more shift workers, those that work Sunday morning may need Midweek Worship as their weekly worship service.
Culture of Midweek Worship: 
1 – It is our secondary gathering of the week. Whereas Sunday morning is our big meal of the week as a church family, Midweek Worship is for those who stick around all afternoon until it's time to eat again—a more casual but still meaningful and valuable meal/time together.
2 – We don't want to set a requirement for our members to come to Midweek Worship, but we do want to strongly encourage people to come as they can.
3 – We should understand that many of our members commute long distances for work and Midweek Worship is not a realistic option for them.
4 – We should understand that when people come to Midweek Worship, they've been beaten up during a 10- to 12-hour-day and are exhausted at every level. They are not going to walk in full of energy and excitement. They are going to come in dragging a bit.
5 – Our Leadership Team should understand exhaustion of congregation, therefore we have to bring the energy for everyone to feed off of. We need to be fresh and energized at every level—spiritually and physically.
Format of Midweek Worship:
The service needs to done in 58 minutes: Our people are tired, and experience has proven a 58- to 59-minute service is the sweet spot for what they can handle on a Wednesday night after a long day. Also, we want to be really sensitive to keeping to the time because childcare workers are hard to recruit as they have no obvious personal benefit from coming to the church on Wednesday night—only to minister to children.
The content of Midweek must be really well planned out not only so we use the 58 minutes wisely, but so that it is worth the worshippers' time to attend.
Singing – we kickoff with music to call people into the room and to help people get energized and focused. We usually sing two songs in a row, on rare occasions we will do three.
Pastor Time – appears a bit random and sometimes humorous, but is crucial and filled with shepherding potential. This is a 10-minute slot to tell the congregation things they should hear but that there is just not time for in the Sunday morning services—victory stories, ministry stories, membership updates, missions updates, etc. Don't wing it—plan out how to best use this 10-minute slot. Share important things in an effective way with good energy—again, the people are tired from a long day.
Possible victory stories—salvations, reconciled marriages, etc.
Possible ministry stories—care a widow received from a member, an adoption of a child, something that happened at FM, something that happened at JProj, something that happened this past Sunday morning, "backstage sneak peak" into a ministry
Missions updates
Prayer Time – this can come in different formats, but should be well thought out ahead of time and give the people two to four key things to pray for—they don't do as well when just told to pray for 10 minutes. Possible formats:
Pastor directed, individual silent prayer
Small group prayer
Two to three members coming up and leading the entire congregation in prayer for some key things the pastor has pre-identified and shared with the congregation
Teaching Time – this should be 25-30 minutes. It is very hard to listen to a sermon longer than 30 minutes on a Wednesday night after a long day at work. Different format ideas:
Expository sermon
Teaching on values of our church to reinforce, strengthen, teach, remind: i.e., our marks of health, the components of our church's vision
The biblical worldview on a really big, hot current event
Ministry training that pertains to the entire congregation: i.e., how to disciple a new believer, how to counsel
Deleted scenes from Sunday's sermon
Q&A
Sample Worship Service Plan (Wednesday, June 28, 2017)
Congregational Singing (two Songs) (nine mins)
Scripture Reading: Psalm 66 (three mins)
Brief Prayer of Blessing Over The Service (one min)
Pastor Time (10 mins)
Recent surge in salvations through our church family:
Also, I am thankful for our recent, intentional EV efforts:

BBC, JProj, now Team Dallas: back-to-back-to-back
Upcoming: Team Estonia, Team Melilla, Team Sturgis, CITC

SBC Recap

Annual three-day business meeting to discuss state of CP and our cooperative efforts—we cooperate together to operate 11 major parachurch orgs.
I came away still convinced SBC is the best network out there for int'l missions, church planting and training pastors/Ms
The current state of the SBC is one of "the changing of the guard." The leaders of the last 20 years are phasing out: Paige Patterson, Ronnie Floyd, Jack Graham, Johnny Hunt, etc. A new generation of leadeship is phasing in: Russ Moore, David Platt, Kevin Ezell, Thom Rainer, Danny Akin, etc. So it's messy "backstage."
But the production of the SBC is very strong: We are generating tons of money for missions, we are training tons of Ps and Ms, we are planting tons of churches.
If you ever want to go to the annual meeting, you can. Just let me know and we can give you the details. The 2018 meeting is in June 2018 in Dallas.

M3 Camp last week:

I'm preaching two student camps this summer: Highland Lakes and Glorietta—going with our student ministry
1,000 teens last week at Highland Lakes
 > 20 teens saved
> 20 surrendered to be pastors and Ms
>100 repented after a sermon on sin

Church Plant Update: This past Sun morning I visited our church plant to lay eyes on it for the first time.

It was their 12th Sunday.
I was really pleased with what I saw: expository preaching, intentional evangelism, missions, good energy, great hospitality.
I feel good about the trajectory they are on.
Small Group Prayer Time (six mins)
Team Dallas – On the field this week assisting a church plant through street evangelism
Mozambique – Young believers being re-seduced by Islam through Ramadan
Teaching Time (27 mins)
(Total Time: 56 mins)
This article originally appeared here.