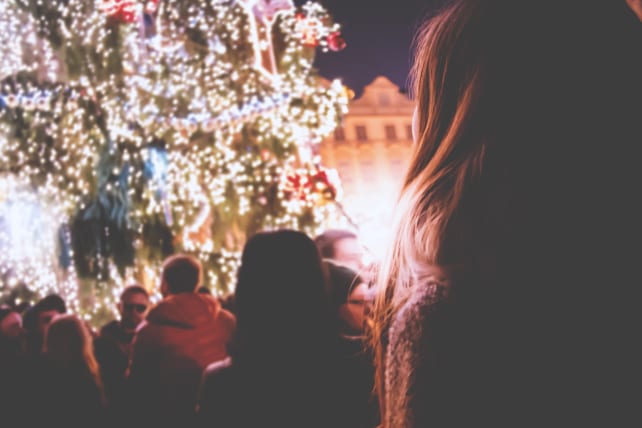 More than any other time of year, Christmas is a season when the public arena, our homes and our hearts are filled with song. I know that in our cars and at our house we play more music in December than during any other month. Even nonreligious people can be found singing Christmas songs, religious hymns included. Christmas songs evoke memories of years gone by and fuel our excitement for the season. Music pulls people together in an unusual way.
Angels vs. Saints
One holiday favorite resounds "hark, the herald angels sing." Here's a spoiler. The Bible does not actually say that the angels sang. The text reads, "And suddenly there was with the angel a multitude of the heavenly host praising God and saying (not singing), 'Glory to God in the highest, and on earth peace among those with whom he is pleased!'" (Luke 2:13–14). In fact, we do not have a biblical record of angels singing, although I suppose they could. I remember reading a piece by J. Vernon McGee who concluded that angels do not sing because they have not been redeemed.[i]
Either way, the good news is that we HAVE been redeemed and we were saved to sing. Revelation 5:9-10 tells of the redeemed holding harps and singing:
"And they sang a new song, saying, 'Worthy are you to take the scroll and to open its seals, for you were slain, and by your blood you ransomed people for God from every tribe and language and people and nation, and you have made them a kingdom and priests to our God, and they shall reign on the earth.'"
(Interesting that even in the scenes of Revelation where the redeemed sing, the angels are "saying," not singing.)
The Priority of Song
In any case, music is important to us because it is important to God. The Father sings over His people (Zephaniah 3:17). Jesus sang (Matthew 26:30; Luke 4:16; also Hebrews 2:12). One result of being filled with the Spirit of God is singing (Ephesians 5:19).
Throughout biblical history God's people wrote songs and sang to Him. The Psalms are packed with encouragements to sing and were actually the lyrics of songs that were utilized by God's people. A number of New Testament passages indicate the place of song in the early church (Acts 16:25; 1 Corinthians 14:26; Ephesians 5:19; Colossians 3:16; James 5:13). There is, and will be, music and singing in heaven (Revelation 5: 8-11, 14:2-3).
Music is powerful. The Scottish poet Carlyle is purported to have once said, "Let me make a nation's music, and I care not who makes her laws. I will control that nation."[ii] Serge Denisoff, a sociologist at Bowling Green University, said, "If you want to reach young people in this country, write a song, don't buy an ad."[iii] Many studies have been conducted in education, medicine and other fields to show the power of music in effective learning, physical health and emotional well-being.
When used in Christian experience, music has power to shape our understanding and recollection of truth (or error) and therefore must be carefully selected and used as a means by which the Holy Spirit achieves His purpose: to glorify Christ.