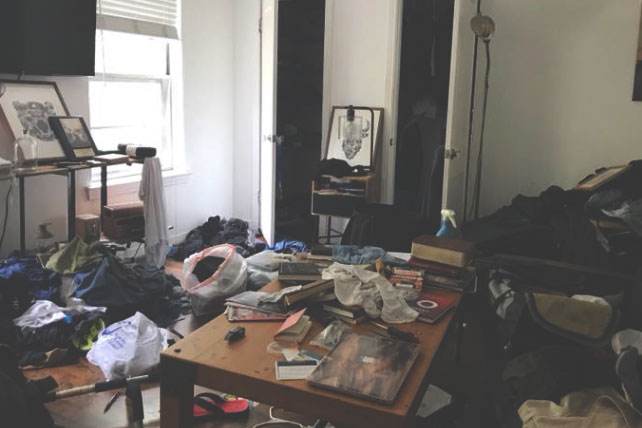 Someone recently asked me, "How are you Grant? You're running like a crazy man for God these days!!!"
"Actually, I stopped running." I said. "That wasn't healthy. I was running like crazy, and yes it was for God, but God never called me to a pace that crazy."
This picture of my room is from a few months ago when I was flying all over the country speaking. It looked cool on the outside but on the inside, I needed rest. I needed more time with God.
I said yes to every. single. opportunity. It sounded smart in 2017. (So I could help all these churches struggling to reach the next generation. If I didn't help, who would right? We'll get to that.) but when I went from being on a plane six times in all of 2017 to traveling like every week (sometimes two to three times a week), I wasn't ready for that big of a shift. It took a huge toll on me physically, spiritually and emotionally. That travel schedule, the new book, fundraising and still trying to lead Initiative left a lot of priorities getting mediocre attention and a lot of important people getting mediocre affection.
God Does Not Call Us to a Crazy Pace
I'm not saying it's impossible to be healthy and travel a lot. I'm just saying you have to be prepared to fight for your time with God in an ever-changing schedule. A book I'm reading (The Emotional Healthy Leader) says one sign of an emotionally unhealthy leader is when they're "doing more activity for God than their relationship with God can sustain."
Unfortunately, that was me. What God is now calling me to REQUIRES far more than I was giving Him. For the first time I experientially feel why Martin Luther would say, "I have so much to do that I shall spend the first three hours in prayer."
So I share my failure because the golden rule of social media is this: "Show your best and hide the rest." What this can do is allow us to see people doing things publicly without seeing what they're doing privately to get there. We can end up with a lot of "doing for God" without a lot of "being with God," which will end in burnout.
By the grace of God, this last month has been so different, to the point I keep getting surprised by who I'm becoming and what my heart is naturally desiring. God is up to something. This inner-transformation can only be topped by the year I came to Christ. But I've got to be honest, it's not coming from the leadership books I like to read or the podcast I like to listen to. It's simply time in God's Word and intimacy with Him.
Every. Single. Day.
And sabbathing well. (It's funny how hard it is for us to rest. Haha I've had to work so hard not to work hard.)
So back to my drive to do more than I could sustain. I do think I'm doing some unique work and I don't see many others doing it. I often feel a pressure that it's a make-or-break season for the American church. But God is moving even when I'm sleeping. And at the end of the day, He doesn't need me. Even Jesus drew away in the morning, and the world actually DID need Him.
"Very early in the morning, while it was still dark, Jesus got up, left the house and went off to a solitary place, where he prayed.
And when they found him, they exclaimed: "Everyone is looking for you!"‭‭ (Mark‬ ‭1:35-37)
"Everyone is looking for you." That's maturity. When everyone is at your door with opportunities, but you're still rushing to the Father's throne first.
Last thought. A mentor shared this advice with me and it may be helpful. He said, "You'll always have more work than you can do. You'll always have more invitations than you can accept. But you'll only have one relationship with Jesus and your family."
The rest of this year is reorganizing my priorities. If this story touches any chord with your current season, feel free to reach out to me.