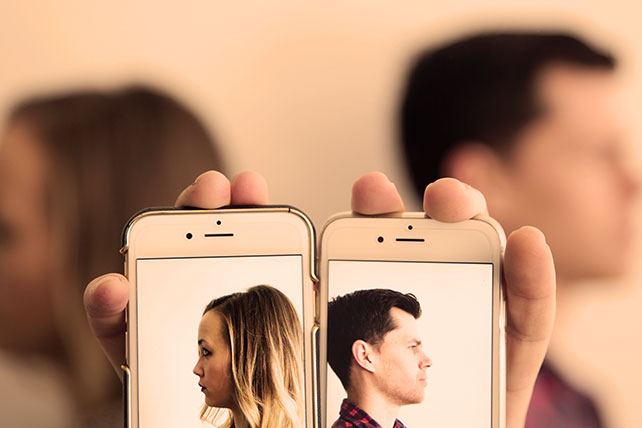 5 Ways for Divorced Christians to Find Peace on Earth at Christmas
Holidays can be stressful under the best of circumstances. There are gifts to buy, budgets to stick to, toys that are sold out, both grandma's want you and the kids with them for the big meal, everyone is fighting for same days off work, and reliably someone gets sick.
Arguably, 2020 promises even more stress for Christmas. The pandemic has brought with it a myriad of uncertainty including unemployment, isolation, and homeschooling. Unfortunately, all of that stress and strife has led to an uptick in divorce in 2020 which means that even more people will be facing their first Christmas season as a single person. The "Peace on Earth" that so many of us associate with Christmas just might be harder to find this year.
Planning for big changes to your holiday norms will take thoughtfulness, prayer, and a little attention to your personal boundaries. For instance, if you were not the one who did most of the gift buying, decorating, wrapping, and planning, you may feel overwhelmed. If you are the one who did do all of those things, you may struggle to let go and allow your ex to do it, or not do it, in their own way. But take heart, God's got you; and you are not alone. Here are some strategies to simplify the season and enjoy some peace on earth:
1. Get aligned with God. "Take delight in the Lord and he will give you the desires of your heart". Psalm 37:4. When we take on life without aligning ourselves with God, we often end up being tossed around by other people's priorities and plans. Take time in prayer to not only ask but to listen. What values, priorities, and purpose has God given you? How do those apply to the choices you're making around Christmas? If you haven't created a values statement for your life yet, now is a great time to do it. Co-creating a vision for your life, with the Holy Spirit's guidance, brings both clarity and freedom.
2. Look for ways to simplify. We all have long standing habits passed down to us by our families that shape our attitudes and activities at Christmas. We call them traditions. Maybe it's candlelight service at 11:00 pm on Christmas Eve or cooking for the whole extended family on Christmas day. Maybe you are the one who has to be at your sisters on Christmas Eve, your dad and stepmom Christmas morning, and with Aunt Marge for Christmas dinner. Have you ever asked yourself which traditions are most important to you? What feeds your heart and aligns with your values? You love your family 365 days a year, exhausting yourself and your kids to please everyone on Christmas is not what God called you to. Your kids are already splitting their time between you and your ex, saying "no" to some traditions can net you some much needed down time.
3. Give your kids a break. No matter how old, your kids are pulled in all different directions just like you. They have expectations coming from you, your ex, various sets of grandparents, and if they are older, they may have in-laws and kids of their own. What worked last year may not work this year. When an adult child chooses to be elsewhere for a holiday, it can be heartbreaking, but as parents we need to honor their choices and their priorities the same way we want our own honored. If your kids are younger, they may break down from missing whichever parent they are not with. Give them your love, reassurance, and patience. Their lives have changed quite a lot in most cases. Make sure younger kids are kept to a structured routine with opportunities for rest, quiet, and a phone call with the parent they are pining for.
4. Focus on relationships. We are created for relationship. God didn't put us here one at a time to prove our worth. He put us in families and communities and called us to Unity. John 17:21 says, "that all of them may be one, Father, just as you are in me and I am in you…" He calls us to love. When making choices around the Christmas busyness, look through the lens of relationships. Prioritize your relationships:
Ø  God first
Ø  Next your children
Ø  Finally, your extended family – Mom, Dad, siblings.
Talk about your needs and listen to theirs. Ask yourself how you can love them in a way that fits your time, energy, and priorities. Maybe you can't be with everyone on Christmas Eve this year, but you can find some alternatives. Maybe you could schedule brunch on Saturday or connect on News Years Day. Focus your energy on the relationships that you are drawn to at a heart level and let the Spirit lead you. Remember that nowhere in the Bible does it say you have to cram everyone you love into one day. You have 365 each year to create special memories and deepen your bonds. Setting some healthy boundaries will not chase away the people who love you. In the Christmas of COVID, choosing not to be together might be the most loving thing you can do.
5. Finally, expect and plan for alone time. If you are sharing placement of your kids with your ex, chances are you'll be spending some time without your kids over the holidays. As exhausting as single parenting can be, a quiet house on Christmas morning can cause its own stress. Knowing that they are opening gifts without you, in their matching Christmas jammies, can be devastating! Having a plan for these moments is imperative. Choose to do something you love. Some of you may thrive in quiet time with a book, while others will need the distraction of people to keep the blues at bay. Make a plan that feeds your soul. And remember, your kids love you all 365 days of the year.
Life after divorce is full of hurdles, spiritual, physical, and emotional. The major holidays just seem to magnify those hurdles. The good news is, you're not alone. The Creator is inviting you to a life filled with faith, hope, love, peace, and joy, at Christmas and always.
Vicki Losson is the author of Whole: Finding Faith, Hope, and Love in the Wake of Divorce