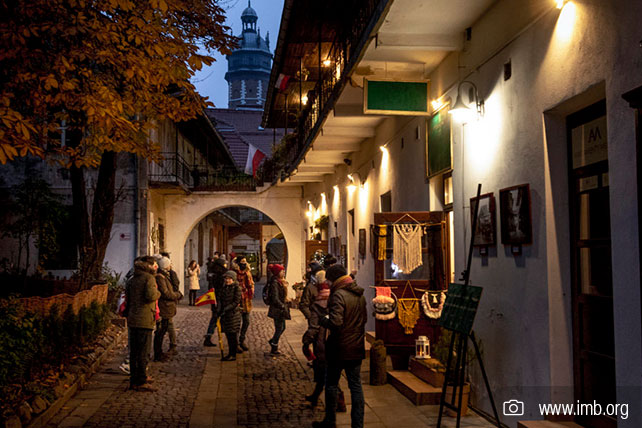 Virtual Missions Trips Build Gospel Connections Continents Apart
Each summer, California Baptist University sends 30-35 teams and more than 300 students on missions throughout the world. The plans changed during 2020, of course, but still included sending the gospel. The time, platform and number of participants may have been different for the Southern Baptist-affiliated school, but the goal of sharing Christ remained the same.
CBU and others have discovered the advantage of virtual mission trips, a new way of taking the gospel to the nations. And while no one is advocating they replace the physical presence of ministry, their benefits are becoming more apparent.
With COVID-19 putting a hammerlock on travel last year, churches and organizations like the International Mission Board were left pondering their next steps. Discontinuing ministry around the world wasn't an option. That necessity gave birth to some new inventions.
"It caused us to look at the approach of missions in a broader context," said Kevin Prewett, Field Partnerships and Pathways team manager for the IMB.
"When you think of the term 'missions' as it involves a church, you think of giving money or going on a trip. But how do we look more broadly at growing long-term partnerships between churches and field teams? How can we engage in ways that aren't limited by travel? How can we use technology to increase communication?"
The coronavirus served as the springboard last year to answering those questions. As churches and ministers have become more comfortable with technology, the uses for it have become more obvious. That includes international missions.
CBU, for instance, had to cancel its summer trips, which affected a popular partnership with Robert and Elaine Rierson, IMB missionaries in Krakow, Poland. Through that partnership, CBU students had assisted peers through conversational English classes at a university in Krakow.
The Riersons are familiar faces at CBU, with their oldest son, Nathan, a graduate, and younger son, James, a junior at the school. In recent years they have served on campus as missionaries-in-residence when not on the mission field. To continue that partnership, another idea took the form of a virtual mission trip where students would meet – continents apart – online.
"A lot of students were disappointed at the canceled trips, so we did this as a pilot project," said John King, director of Mobilization and Spiritual Life at CBU. "We wanted to see if a virtual environment could work for students to have those cross-cultural conversations."
From Oct. 3-Nov. 20, CBU students would meet with those from Poland through various video platforms. The conversations lasted approximately an hour and took place one on one. Discussion prompts included pop culture, travel, hobbies and faith.
King said spiritual conversations occurred with all of the CBU students, with most including a gospel presentation. Several students maintained contact through social media.
Raymond Vargas, a CBU student, had taken part of school-sponsored mission projects in Germany and Northern Africa. And while his experience in virtual missions last fall was different, it still brought fruit.
"It was nice to have a one-on-one interaction with a Polish student because it allowed us to put our full focus on building that relationship and connection with one person," he said. "Meeting on a weekly basis helped me understand his culture and his personal life better, while he learned about what life is like in the States as well as my personal life."
A few weeks after the semester ended, Vargas and his friend in Poland talked again over Zoom.
"One day I was doing a Bible study with a group of friends and Facetimed Dima right after we finished," Vargas said. "It was a perfect opportunity to tell him how I have been doing and what I have been learning in fellowship with other believers.
"That's when he asked me if I would be willing to do a Bible study with him on a weekly basis. He knows God, but doesn't fully believe you can have an intimate relationship with such a powerful and mighty God. We're currently going through the book of Romans and he loves it. He is asking me many questions and we are both praying for each other."
"We're getting better at utilizing digital options, although the ideal is to do that ministry in person."
The Riersons, who will return to Poland this week, provide training for students prior to their first conversation. Robert credits his wife for the idea of the virtual conversation classes.
"She's great at connecting people, and got the idea of putting university students in touch, kind of like pen pals," Robert said. "Back when we had teams go to Poland, she'd connect those students ahead of time even before the Americans arrived. That way, these students already had a relationship when they got to Krakow."
It was common, he said, for that relationship to continue up to a year after students left, leading to many gospel presentations.
"Because so many of these [missionary students] are from Baptist universities, a lot of them are speaking on topics of how God works in our life," Elaine said.
In addition to CBU, students from Ouachita Baptist University in Arkadelphia, Ark., and a group from Salem Baptist Church in McDonough, Ga., participated in virtual mission trips through the Riersons last fall. Those groups, however, opted for a large-group call on Zoom rather than the one-on-one format. This spring, another group from Salem Baptist will participate along with students from Southern Hills Baptist Church, Quail Springs Baptist Church and Brookwood Baptist Church, all in Oklahoma City, as well as some from Andrews Baptist Church in Andrews, N.C.
Virtual mission trips can serve various purposes and not just for students. Recently, a Southern Baptist church in West Virginia hosted one on a Saturday morning. Details are limited due to the work and location of the missionaries. However, church members gathered in the sanctuary, and over the course of a two-hour Zoom call projected on a screen, were able to interact and speak with the missionaries. They "walked" through different locales connected to the mission work and saw with their own eyes the people impacted.
"People used to think of COVID as a temporary situation," Prewett said. "But it's having lasting effects [on ministry practices]. We're going to have to adjust strategies long-term. We're getting better at utilizing digital options, although the ideal is to do that ministry in person."
King has witnessed the benefits firsthand.
"It's helped integrate our students better into the experience," he said. "It goes straight to the relationship-building and sharing Christ. It becomes part of your daily rhythm and activity."
Technology doesn't need to be a replacement for on-site missions but can certainly be a resource.
"There's something to be learned and discovered through this," he said. "There's some meat on this bone."
This article originally appeared here.