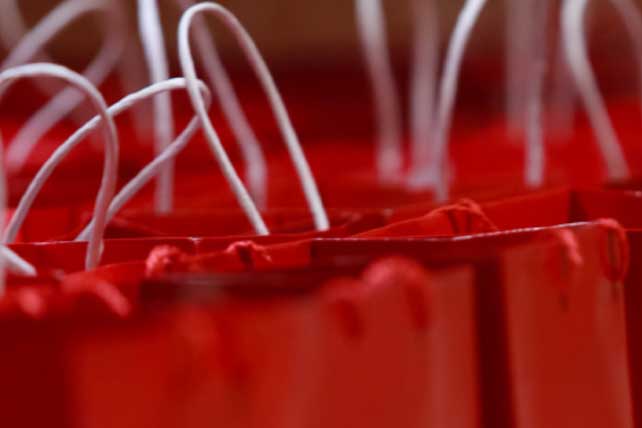 Our church wanted to create a gift bag for church guests that could provide us with three results:  1) a positive excuse for face-to-face follow-up, 2) an attractive delivery vehicle for the stack of brochures and basic information we give each visitor, and 3) entrée for our name and logo into their many spheres of influence.
The people in our target demographic are busy young families with elementary aged children, and we have found that they live their lives in a variety of separate, unrelated spheres.  This leads to a state of disconnection and alienation which author Randy Frazee aptly dubs "crowded loneliness" in his book, Making Room for Life.  We specifically sought to create a gift bag for church guests that would help involvement in a church become what people needed it to be: a unifying mission that would intersect all aspects of their lives, not just another one of the many fragments in an impossible puzzle.
In order to ensure that our gift bag set this tone well, we decided to include a variety of items that would connect with multiple members of the family and the multiple spheres of their lives.  In terms of contents, this approach was made manifested as you would expect:  We included literature about all of the various ministries of the church, distinctives of the congregation's mission and values, brochures, tracts, etc.  One interesting addition, however, was a bundle of our business cards with the name spot blank for them to use when inviting others. These cards were double-sided and included a map, service times, Web site and basic contact information. This sent a powerful message to new visitors: "You are welcome, and we want you to represent us to your friends."
In order to make the gift bag for church guests truly memorable and "sticky," however, we also applied the same approach to the logo-branded items we included.  We sought out a local vendor and asked him to help us create some truly unique items according to the following principles:
People like free stuff, especially if it's cool and/or useful – Giving away junk is worse than giving away nothing at all; we decided it was worth spending more  time and thought (not necessarily money) upfront to make a quality impression.
The cooler it is, the more likely people are to use it regularly and publicly – We want this stuff to be so cool that even spiritually uncertain persons won't care that there's a church logo on it.
The more they use it regularly and publicly, the more they will be reminded of their experience at our church, and the more the items will become conversation pieces that allow them to buzz about our church.
If we can provide them with items they will use visibly in their most influential spheres, these items will increase their willingness to self-identify as believers with their most intimate peers, thus increasing the impact of their endorsement.
Since our target group is comprised of many young families, we started with a sturdy, unique-looking and attractive logo tote, based on the assumption that parents like and use bags. Our hope was that the totes might become favorites for toys, diapers, beach gear, snacks, etc. We hoped this would bring us into the conversation at day care, Toys R Us, parks, and more. The gift bag format also helped with goal No. 2 by providing an attractive and flexible container for all other items. It can even be hung on a doorknob during delivery.
Next, we added a coffee mug—not your standard, cylindrical 10 oz. mug, but a funky 17 oz. monster with a fist-sized handle and our church information, service times, Web site, and logo tastefully glazed on. Our thought was that the size and ergonomics would make this a favorite mug that would bring our church to the office for conversations around the water cooler, to Starbucks, to the library and more.
Another item we added was a sunglasses holder with an oversized clip that would fit large SUV visors. We knew that it was a very useful item and felt confident the oversized clip would make it a favorite in our demographic, getting us into their cars for the morning commute, shuttling to soccer practice, etc.
Again, we made sure our logo, Web address and key stats were printed on the clips.
We use the following checklist to ensure everything makes it into the gift bags for church guests:
Gift Items:
1* Tote Bag
1* Coffee Mug
1* Sunglasses Clip
2* Wayfarer Pens
1* Wayfarer Pad
Paper Items:
1* Pastor's Letter (Signed)
1* Contents Explanation Sheet
1* Wayfarer Brochure
5* Invitation Cards
1* 7 Wonders Booklet
1* Feedback Form
Food Items:
1* Candy Bag (in Mug)
1* Homemade Item (Cookies, Banana Bread, etc.)
All of this work has paid off for us—visitors comment regularly on the gifts, and even tell their friends, "If you like this, you can get one free—just visit this church I've been attending!"  Some visitors have asked how long they have to stop attending before being considered new enough to return and get a second mug for their spouse.
It may sound materialistic and petty, but for a small, new church start that meets in a smelly school cafeteria, we need all the help we can get with first impressions!
Some other things to remember:  The gift bags for church guests (or whatever follow-up gifts you may use) are only as good as the delivery team and the spirit in which they are presented.  Delivery teams must be discreet and polite, should call ahead if possible to avoid catching people off-guard at their homes, and (if at all possible) should be faces that the visitor will actually remember from their visit.  Ideally, we try to have the friend who invited the guest make the drop-off, and our second choice is always someone who actually connected with that person during fellowship time. (Side note:  The pastors, paid staff and other highly visible personnel should not make the delivery.  It's nothing personal, but people unfamiliar with church are often irrationally threatened, and the disarming touch you intend will be swiftly replaced by acute discomfort.)
Also, we always include a list of contents that metaphorically references all the components, as a way of conveying our heart toward the visitor.  It's cheesy, but it is a way to reiterate the thought behind the contents. We also include a letter on our stationary from the senior pastor, which he signs and makes personal notes referring to any contact he may have had with the visitors during their visit.
For your reference, this is our list of contents:
HERE'S WHAT'S IN YOUR GIFT BAG FOR CHURCH GUESTS:
Tote Bag:  This is simply meant to be a good utility bag for you.  As you use it, know that we would love to help you carry your burdens!
Coffee Mug:  We hope this mug finds a place among your favorites at work or at home.  We hope drinking coffee or cocoa out of it reminds you that a warm welcome is always waiting for you here at Wayfarer!
Sunglasses Clip:  This item is just plain old useful.  It clips to your car visor and pops open when you press the button to hold your sunglasses for you!  (Fold the temples and place them in the foam-lined area, then snap the clip closed—to release the glasses, just press the button again.)  It also holds a pen in the small metal clip under the button.  We hope you find it helpful, and that putting your glasses in it reminds you of our clear vision to reach this community for Jesus!
Pens:  These actually lay down a pretty dependable bead of ink!  We hope that worshipping with us is the same way—it just clicks!
Note Pad:  As you use this, remember that no matter where you come from or what your struggles, you can start with a clean slate here!
Invitation Cards:  Please feel free to invite others to visit with you.  These cards are an easy way to pass on all the vital information about Sunday worship at Wayfarer.  Use them knowing that we are glad to welcome you and your friends any time!
Brochures:  We've included a few brochures to help you learn more about Jesus, Wayfarer and Christianity in general.  Take time to read through them and feel free to call or email our office with any questions they raise.  Also, please take time to send in the feedback form—your input is very valuable to us!
Goodies:  You should also find some edible gifts in the gift bag.  We want you to find our fellowship sweet, and to be fed on God's truth each week!
Thanks so much for taking the time to visit us!  Come back again soon and worship with us again – you're always welcome at Wayfarer!
Finally, make sure you have planned a follow-up to the follow-up.  If you advertise your Web site to visitors, have a special link on the home page to an area just for them.  Identify other milestones after which they will receive more and varied contacts.   
Wayfarer Community Church
---