Jim Caviezel who portrayed Jesus Christ in the 2004 The Passion of the Christ now co-stars in the upcoming movie Paul, Apostle of Christ. And Mel Gibson has announced that Caviezel will also play the role of Jesus in The Passion of the Christ 2 (tentatively titled The Resurrection).
Jim Caviezel Stands for His Faith
Some may not realize the devout faith that carries Caviezel through a challenging career in Hollywood. In a People.com interview, Caviezel said that he is drawn to roles that enable him to be the light. He says, "The light is much brighter in the darkest of places. In those darkest of places, I want to be the center of it. I was drawn to that."
For example, Caviezel stuck to his convictions in shooting scenes with famous actresses. Out of respect to his wife, Caviezel has refused to do nude love scenes in the movies Angel Eyes with Jennifer Lopez and High Crimes with Ashley Judd.
A devout Catholic, Caviezel opposes abortion. And he and his wife, Kerri Browitt, have adopted three children from China who had cancer. Caviezel told People.com of his children Bo, 18, Lyn, 16, and David, 7: "Two of them had brain tumors and one had cancer sarcoma. Their chance of survival wasn't great, but I wanted to help…They make me want to be a better man. Love is a decision."
Watch this CBS 19 exclusive interview with Caviezel about his children.
Jim Caviezel Challenges Christians to Stand Strong
Caviezel has used his acting success to speak out for pro-life causes and to challenge the church to stand strong. On People.com, Caviezel said that "he feels a calling to spread the Word of God through his work, and is drawn to projects that 'speak the truth' and aim to make a difference in the world."
From his role as Jesus in the Passion, Caviezel says that he almost died while filming the movie: "I thought I would put the makeup on and prepare the same way and we would shoot it in studio and suddenly I realized I was in a fight for my life. It was very cold and I got hypothermia. The makeup burned my skin and I caught pneumonia in both lungs. I was struck by lightning and eventually had two heart surgeries including open-heart."
Even so, playing Jesus was an important part of his faith journey. Caviezel says: "I need him every day. I feel the lack of love in the world and in myself at times and I'm looking for purpose like everyone else. In this business that doesn't suffer fools, when the world kicks you, I know that I have my personal Savior right there with me and he feels the pain that I feel."
Watch this video about Jim Caviezel's testimony.
Jim Caviezel plays the physical Luke in the movie Paul, Apostle of Christ.
And playing this role also challenged Caviezel's faith to see God's greatness in being able to use mere humans. "This film to me is one that goes out to the world," Caviezel says. "It goes out to this is what these guys were. And the people that are going to watch it are going to say, 'wow! They're a sinner like me.' "
Caviezel is set to reprise his role as Jesus–the Resurrected–in Mel Gibson's Passion of the Christ 2 (tentative release in 2019) Caviezel hasn't said much about the film other than that "the film is going to be the biggest film in history."
Earlier this year, Jim Caviezel addressed a gathering of students in Chicago with a challenge to embrace suffering and pain for the sake of Christ. Caviezel said: "Embrace your cross and race toward your goal. I want you to go out to this pagan world…and shamelessly express your faith in public. The world needs proud warriors animated by their faith. Warriors like Saint Paul and Saint Luke who risked their lives and reputations…"
From someone who's played the roles of our Savior and our greatest missionary, we find great inspiration and encouragement from his perspective.
Wisely, Jim Caviezel challenged the students–and us–with these words:
"We are…a people in danger of succumbing to our excesses…Set yourself apart from this corrupt generation. Be saints…Freedom exists not to do what you like, but to do what you ought."
Don't miss Jim Caviezel's latest role as the physician Luke in Paul, Apostle of Christ.
Who is Jim Caviezel?
James Patrick Caviezel was born September 26, 1968. Caviezel was born in Mount Vernon, Washington, the son of Margaret (née Lavery), a former stage actress and homemaker, and James Caviezel, a chiropractor. He has a younger brother, Timothy, and three sisters, Ann, Amy, and Erin. He was raised in a tightly knit Catholic family in Conway, Washington.
Jim Caviezel movies:
Jim Caviezel Wife
Caviezel is married to Kerri Browitt, a high school English teacher, and flutist. Isn't it a wonder how an actor got married to a high school teacher? We'll solve that puzzle for you. Jim's sister, Amy, set them up on a blind date in 1993. It may not have been love at first sight, but their relationship blossomed after the date and led to many other dates.
Three years later, on July 20, 1996, they got married at the Immaculate Conception Church in Roslynn, Washington, and their love has endured into a marriage of more than two decades with no rumor of divorce in sight.
Jim Caviezel children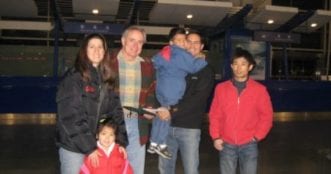 They have adopted three children from China who had cancer, saying, "They are people, just like we."
David: Born- March 2010, China
Lyn: Born – September 2001, China
Bo: Born – December 1999, China