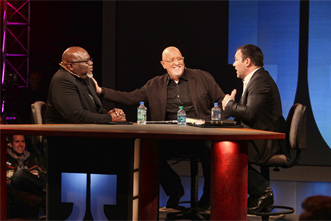 I've never met Texas pastor T.D. Jakes. Not long ago, we both spoke at the same event—we served as the co-keynote speakers for the Evangelical Press Association meeting in his hometown of Dallas, but did not meet—and that was about as close as my association has been. He is certainly well known and influential… and in the "evangelical press" again this week.
In evangelical circles, few issues have been as controversial lately as James MacDonald's invitation of T. D. Jakes to an event called The Elephant Room. Many people expressed great concern and, to quote Mark Driscoll, MacDonald "must have felt like a piñata on Cinco de Mayo."
During the simulcast that took place yesterday, Jakes was paired with Driscoll for a discussion about doctrine. Quickly the question that was on everyone's mind was brought into the conversation—something called modalism or Sabellianism. (For more info on Sabellianism, visit Justin Holcomb's Know Your Heretics series at The Resurgence.)
There is no official transcript yet, but Trevin Wax live-blogged the event. He acknowledges some content may be inexact, but an attendee who previewed this post attests to the substance of both the question and the answer. Thus, according to Wax, Driscoll asked Jakes:
We would all agree that in the nature of God there is mystery. But within that, for you, Bishop Jakes, is the issue one God manifesting Himself successively in three ways? Or one God existing eternally in three persons? What is your understanding now? Which one?
To which Jakes responded:
I believe the latter one is where I stand today. One God—Three Persons. I am not crazy about the word "persons," though. You describe "manifestations" as modalist, but I describe it as Pauline. In 1 Timothy 3:16 he says, "For God was manifest in the flesh." Paul is not a modalist, but he doesn't think it's robbery to say "manifest in the flesh." Maybe it's semantics, but Paul says this.

Now when we start to think about that sort of thing, I think it's important to realize there are distinctives between the work of the Father and the work of the Son. I'm with you. I've been with you.
Be sure to read the whole recap here.
You might be wondering why this would even be an issue for arguably the most well-known African American pastor in the country. It's because Jakes has, in the past, been identified with Oneness Pentecostalism, which teaches that God is one God in three successive "manifestations" rather than one God in three Persons eternally co-existing.