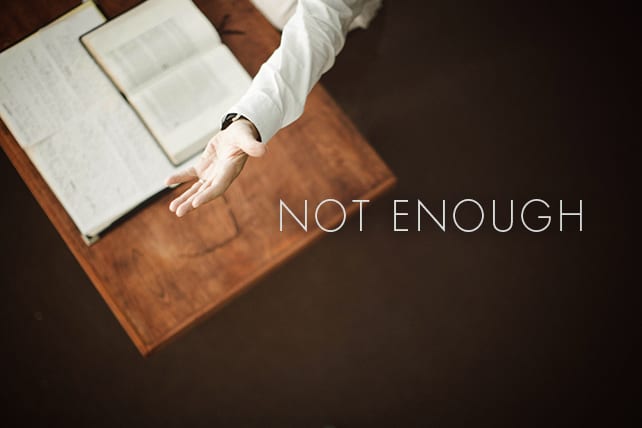 There are some good reasons to be a pastor, and there are some reasons that just aren't enough. This is the third installment in an eight-part series called Preparing to Lead.
Over the years, I have heard men give compelling reasons to be a pastor. I have also heard a few ridiculous reasons.
But most often, I have heard reasons that just aren't sufficient on their own to justify becoming a pastor. Here are 10 of them.
1. You like spending time with other Christians.
This a very good thing. You should be really encouraged by this desire. According to Jesus, the clearest evidence of being a Christian is loving other Christians (John 13:35). And to love other Christians requires spending time with them.
But being a pastor requires you to spend considerable time alone in study and prayer. You will also give of yourself in knowing and serving non-Christians.
Too many people mistake pastoral ministry for a never-ending summer youth camp. In reality, the two have very little in common.
2. You like to study your Bible.
Again, this is a really good thing to like. All Christians should love to study the Bible in order to better know Jesus.
A pastor must study the Bible. Preaching should be his highest priority and the foundation of influential preaching is focused study.
But almost every pastor I know wishes he had more time to spend studying. It's absolutely important and completely impossible to give yourself to it exclusively.
3. You like speaking in public.
Pastors must be able to clearly communicate the Bible. Most will preach anywhere from 50 to over 100 different sermons in a single year. But speaking in public and preaching are two different things. The medium is the same, but the responsibility is not.
Making a compelling presentation to your co-workers and preaching the Bible are as different as a paintball competition and real combat. Both involve guns and helmets, but that is about all.
Projects, products and dollars can't compare in worth to the souls and eternal destinies of human beings. And that is exactly what is at stake every time the pastor enters the pulpit.
Being responsible to relay a message from God to people who desperately need him is an enormous task.