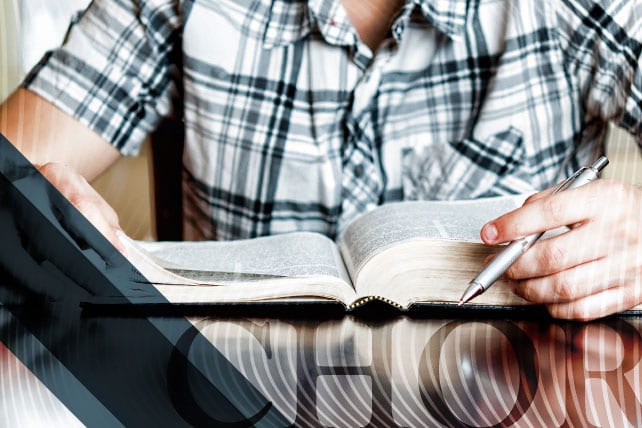 Christianity is not for those who dislike books. After all, we are a people of the Book. We know God's will, his character and his promises through the Bible. This is a book that should be one we're always eager to pick up. To read carefully. To enjoy as though it were our favorite meal …
So why is it that reading the Bible seems like such a chore? While there are, no doubt, many reasons, here are three that I've seen crop up most frequently in my own life:
1. We are lazy. Let's be honest, this is probably the key reason many of us struggle to read our Bibles. We don't prioritize it the way we should. We choose other books instead. We choose television instead. … This is not right. And yet, it's so easy to fall into this trap, isn't it? I can definitely attest that I've had seasons where this has been my problem—and it's really dangerous because it's so hard to get out of this trap, and often the approaches we take to doing so can cause even greater harm.
2. We treat it like a project. This is the second issue, and it's related to the first. Many of us try to overcome our lackadaisical attitude to the Bible with aggressive reading plans. We want to read the Bible in a year, or 10 times in a year, or the New Testament in a month. … But that's like trying to start your car in the dead of winter and immediately jump onto the highway without letting it warm-up. You may move (briefly), but you'll ruin the engine. But reading the Bible is not a project. Spiritual dullness cannot be defeated by an exertion of willpower.
3. We are in a season of spiritual depression. Unlike Barney Stinson's views on mixtapes and despite what Joel Osteen may tell you, the Christian life is not all rise. Every day is not a Friday. Sometimes we find ourselves in the midst of a deep spiritual depression—one that just never seems to lift. Sometimes this situation comes from a prolonged season of battling against personal sin. Sometimes it's from trying to remain faithful in difficult circumstances (I went through an extended period of time where I dreaded even getting up in the morning; this was because of circumstances I need not go into). Whatever the reason, though, in these situations we cannot find comfort, encouragement or rest in the place we should find them. And so our weariness can lead to despair, and we struggle to push back the darkness. And as our shame grows, we grow silent, for fear of judging eyes.