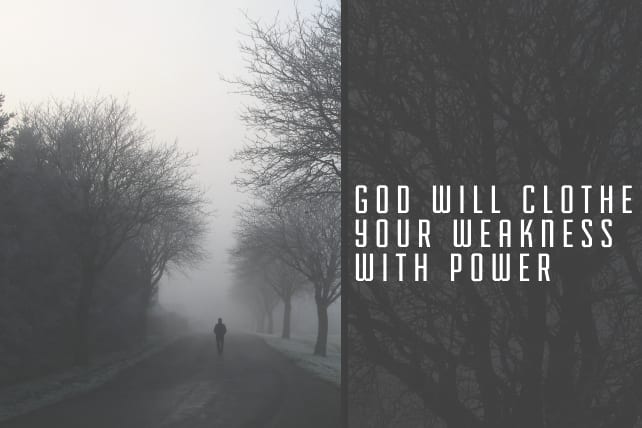 Too many Christians live daily with literally no sense of the spiritual energy and potential residing in us. We're far more aware of our weaknesses and wanderings and inabilities.
God himself lives in us, and yet we're strangely content to live days, weeks, months, even years without attempting to tap into his holy wisdom and authority. He has invested limitless power—endless resources, strength and help—into every single believer by his Spirit. Sadly, many of us simply don't know what to do with him.
Jesus' last words to his disciples help us leverage the power living in each of us and to realize the remarkable divine potential wired into our new hearts.
Clothed With God's Own Power
The disciples were devastated on Friday evening. Their long-awaited King had died on a cross, and with him any hope for a kingdom. For 72 hours, years of anticipation crumbled in their hands. What would their lives be about now? They left their nets. They staked their all on this Christ, and now their hopes were dead with him.
But then, on Sunday morning, he rose from the dead. He lived with them for 40 more days and taught them from the Scriptures, making sense of the ancient promises about his life, death and resurrection. Their hope was suddenly alive again.
Filled with confidence and expectation, they asked him, "Lord, will you at this time restore the kingdom to Israel?" (Acts 1:6). Will you finally seize power? Even after everything he had taught them about his kingdom, and even after going to the cross, and even after interpreting the Scriptures in light of his suffering, they were still looking for him to overthrow a government and take political office in the world's terms.
How does Jesus respond? "It is not for you to know times or seasons that the Father has fixed by his own authority. But you will receive power when the Holy Spirit has come upon you, and you will be my witnesses in Jerusalem and in all Judea and Samaria, and to the end of the earth" (Acts 1.7–8″ data-version="esv" data-purpose="bible-reference">Acts 1:7–8). Will you now finally seize power, Jesus? No, I am going to put my boundless power and authority in you.
"You will receive power." You will be "clothed with power from on high" (Luke 24:49).
What Kind of Power?
What kind of power was Jesus promising his disciples (and all his disciples after them)? Luke talks about this power over and over again.
• The power Jesus promises us brought God himself into the world through a virgin's womb: "The angel answered her, 'The Holy Spirit will come upon you, and the power of the Most High will overshadow you; therefore the child to be born will be called holy—the Son of God'" (Luke 1:35).
• The power Jesus promises us healed the lame and the sick: "All the crowd sought to touch him, for power came out from him and healed them all" (Luke 6:19).
• The power Jesus promises us cast out evil spirits and demons: "They were all amazed and said to one another, 'What is this word? For with authority and power he commands the unclean spirits, and they come out!'" (Luke 4:36).
• The power Jesus promises us reigns right now over all of creation: "From now on the Son of Man shall be seated at the right hand of the power of God" (Luke 22:69).