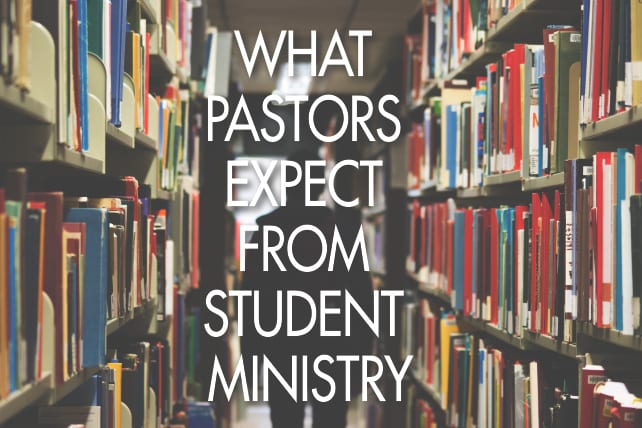 This week I'm teaching a course on Ministry Issues in the Next Generation with my friend Jimmy Scroggins. Jimmy is now pastor of the First Baptist Church of West Palm Beach, Florida, but was for years a student pastor. He has a take on what pastors want from a student ministry. These may surprise you.
A strong youth attendance, particularly on Sundays.
Baptisms and lost youth reached.
Parents who are happy with the ministry. He doesn't want you to be the source of more unhappiness in the church.
He wants his children to love the student ministry. He filters much of his view of the ministry through the lens of his seventh grade daughter or tenth grade son.
That's what so many DO want. Now, here is what Jimmy said pastors SHOULD want:
A ministry that connects with parents, especially dads.
The youth pastor should aim to be a qualified pastor. Even if you are a volunteer or a part-time leader, aspire to be qualified as a pastor.
Recruit volunteers that parents can trust and respect. The dude in gym shorts who looks like he just crawled out of bed is not the prime example.
A youth pastor and volunteers who present a high level of personal standards. This includes lifestyle choices, entertainment choices, hygiene and other areas that demonstrate you are serious about your role. The younger you are, the more you need to focus on this.
Build a masculine youth ministry. From the songs you sing, the places you go and the things you teach, do with a view toward developing young men. Most student ministries and churches have more women than men; we have to work a little harder to connect with the guys and should have this on our minds.
Create resources and projects that empower and encourage parents, especially dads. "How can we involve parents in this event?" Again, it's not hard to get moms involved, but engaging with dads is vital.
Develop a strategy to encourage single moms. There are lots of them, so recognize, encourage and help them. Let them know you love them and are for them.
Get and stay on the same page as your senior pastor. Your gifts and calling are equal to your pastor, but your role is subordinate to him. You are an EXTENSION of the pastoral not an ALTERNATIVE to him (note: lots of student pastors miss this).
Become a peer to the pastor. Let him learn from your leadership and ministry even as you learn from his. 1) Provide resources for him from what you are reading (NOTE: Most pastors and too many student pastors don't know what Moralistic Therapeutic Deism is—help him know what this is and why it matters). 2) Meet a need that he has. Help him out. Bring joy to him. 3) Help him be a better father or grandfather.
Point students and volunteers to your pastor's leadership.
Finally, here are four things that should mark your everyday life:
Dress up—dress one level above those you lead, not as casually as you possibly can.
Come early—half of ministry is showing up ready.
Stay late—hang around with others.
Walk fast—be purposeful.