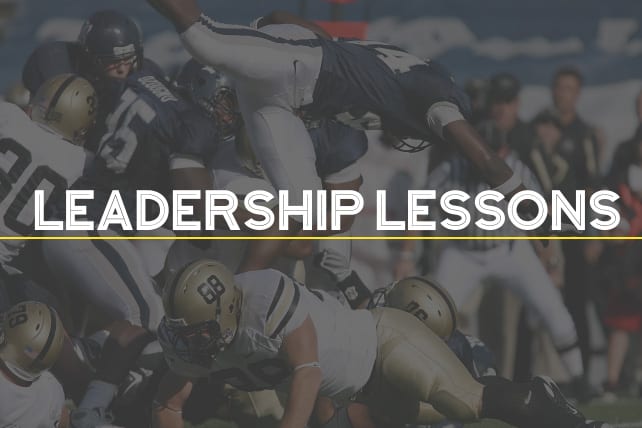 Are you ready for some football? The greatest sport in all of the land is back. Crowds cheering, tailgates blazing and pigskin flying all combine to give me happiness.
As the college football season kicked off this past weekend, there were some leadership lessons I noticed. Check them out:
Liberty beat Baylor.
Leadership Lesson: Don't give up before you begin, even if most people think you don't have a shot. My Liberty Flames were a 34-point underdog, and wound up beating those pesky Baylor Bears.
Florida State's special teams caused their loss.
Leadership Lesson: This is the third phase of a football team, and the one most often overlooked. Small details can cause major problems if they're ignored.
USC had a blind long-snapper successfully play.
Leadership Lesson: You may face some setbacks, physical or otherwise. Determine to not use them as excuses. Fight through them.
Texas flopped against Maryland.
Leadership Lesson: Just because you get a flashy, high profile leader who was successful at a previous place of service does not mean it will be automatic magic at his new place. Tom Herman, Texas' new coach, was amazing at University of Houston. Success isn't always transferable.
Ohio State had a slow start, but finally clicked on all cylinders.
Leadership Lesson: Sometimes, it takes a bit of time to get things to click. Just because things don't start out smoothly in your organization does not mean they won't end well. This past Sunday, we had quite a few media issues before the services started. By the end of the second service, I realized things went flawlessly and we had several decisions.
Clemson whooped up on Kent State in their first game after their championship.
Leadership Lesson: When you come off of a big victory, it can be easy to experience a lull. Keep the pedal to the metal.
Florida played multiple quarterbacks and wound up losing against Michigan.
Leadership Lesson: Florida's lack of leadership from the quarterback position is a major reason they lost. There are trends out there for churches to not have a lead pastor. An organization with multiple heads becomes a monster.
Oregon took the opening kickoff to the house for a 100-yard return.
Leadership Lesson: When you get off to a quick victory, it is amazing how well you can build momentum and soar into the future. Where are the quick victories available in your organization?
Deondre Francois injured his leg.
Leadership Lesson: You never know when setbacks will come. Prepare yourself and your organization for the inevitable possibility of losing major players for extended periods of time. We're all susceptible to it.
Mizzou racked up 815 yards in a 72-43 win over Missouri State.
Leadership Lesson: Much of what seemed impossible years ago is now attainable. In the '70s, when the wishbone offense was popular, the idea of a team racking up 800+ yards seemed impossible. In the days of the spread offense, it is realistic.
In your organization, you can achieve things people in previous decades or generations never imagined possible. What problem can be solved in your organization that used to seem impossible, but now is attainable.
This article originally appeared here.