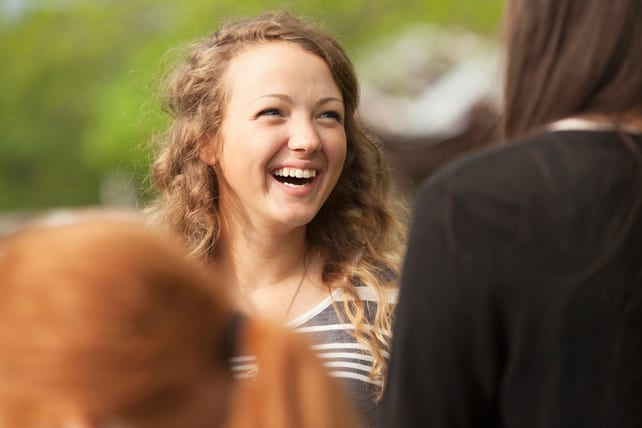 I forget to laugh and smile. That can be dangerous for a youth minister because let's face it; you need to have a sense of humor to survive. Adolescence is a chaotic time of life filled with so much unpredictability that if you aren't ready for it, you'll find yourself defeated.
At the same time, you need the humor to help your ministry grow. With all the chaos that comes with the teen culture, you need to be able to cut the tension and break down the barriers that hold us back from being vulnerable. Humor also has a way of conveying harsh truths in a digestible manner. It's a tool that every ministry should use but use it wisely. While fun is a skill, you don't have to be funny to incorporate it into your ministry. If you want your teens smiling, laughing, and opening up then:
CHECK OUT YOUR GAMEPLAY
I love games in youth ministry, and if we're honest, they lead to some of the most memorable moments of youth ministry. They get teens thinking, laughing, and moving around. They don't have to be too complicated, a good game of Simon Says can create plenty of laughs. Games can be messy, and you can use technology. No matter what you do, make sure you:
Make Sure Instructions Are Clear
Have All The Materials Ready To Go
Test It Out Before Asking People To Play For The First Time
But, even if you fail, there is humor in the situation. Granted, the failure will come at your expense, but teens will remember how you tried. If you are looking for some good games, check out my friends at Download Youth Ministry to get you started.
BUILD A TEAM THAT KNOWS HOW TO LAUGH
A fun ministry has fun people. Fun people aren't necessarily funny, although humor is a huge attribute, they are people filled with joy, who love being present and interacting with others. You want to put these people at the front door of your ministry and in front of the room. These people are especially important if you feel like you aren't the most fun person. They'll help you find entertaining games and engaging activities to build your ministry.
In addition to finding fun people, you want to make sure you are finding things to do with your team that brings laughter and smiles. That might be hosting a team-building activity where you do something goofy like ax throwing or find time to play one of the games you usually play with the youth.
When you have a culture of joy and fun, it not only creates a healthier work environment, but you attract men and women who might have been reluctant to serve initially.
TAKE YOURSELF A LITTLE LESS SERIOUSLY
We want to be the best example of Christ for our teens, and sometimes we confuse that with perfection. When we make that the focus, we have to be careful because it can distract us from our humanity. Our mishaps, mistakes, and missteps are a vital ingredient in helping teens encounter Christ.
When you deliver a talk or message, don't be afraid to tell an embarrassing story to show your teens, it's okay to laugh at yourself. You don't want to condone inappropriate behavior; however, indicating them that even you, a follower of Jesus, has made mistakes will allow them to ease up and not stress over their imperfections.
CREATE A CULTURE OF GOOFY AND HUMOR
While you want to teach teens reverence, it's also good to teach them to let go. Don't be afraid to make one of your ministry nights pure fun. Whether that's throwing an ugly Christmas sweater party or hosting a game day, we want the teens to know that church is a place they can come to laugh and smile.
Creating a culture of goofy doesn't just mean having games; it can also mean incorporating video clips into your talks to help break tension or loosen the mood. If you are planning games, have your adults play with the teens. Remind people that God created laughter, and when we share that, it fills us with joy.
Youth ministry is seriousness business; but, if you don't have humor, it's easy to lose sight of God's gift of joy. As you plan your next night, ask the question, "When Do We Get To Smile, And When Do We Get To Laugh?"  Remember, it's the joy that builds our memories and reminds us why we are called into ministry.
How do you incorporate joy and laughter into your ministry?
This article originally appeared here.