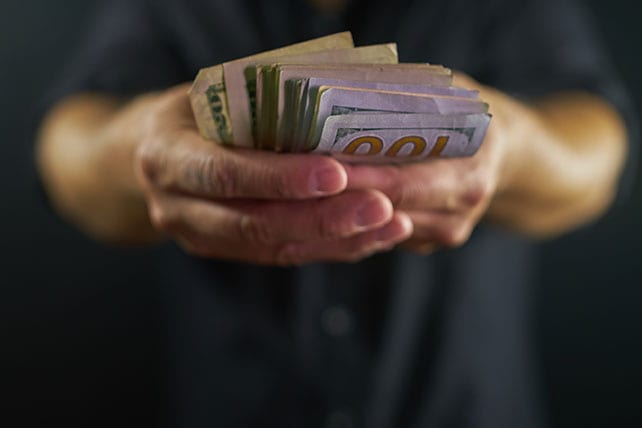 In some circles, the abundant life Jesus promised His followers has been confused with material wealth. Prosperity theology says that God's plan is always for us to be wealthy—and to spend our money primarily on ourselves. Jesus, who didn't even have a place to lay His head and who owned nothing but a robe and sandals (Matthew 8:20), clearly didn't live a money- and possessions-centered life. Surely that's not what He wants for us either.
So how can we explain the apparent contradiction between the words and lifestyle of Jesus and the apostles, and the Old Testament prosperity passages? Can God's people today lay claim to those Old Testament promises of prosperity? The answers to these questions lie in the fundamental differences between the Old and New Covenants. Suffice it to say that the New Testament reflects a fuller picture of the true, eternal wealth that is ours in Christ.
Material Wealth = God's Blessing?
The portion of truth that makes prosperity theology credible is that some Old Testament passages link material prosperity with God's blessing. For instance, God gave material wealth to Abraham (Genesis 13:1-7), Isaac (Genesis 26:12-14), Jacob (Genesis 30:43), Joseph (Genesis 39:2-6), Solomon (1 Kings 3:13), and Job (Job 42:10-17) because He approved of them. He promised the Israelites He would reward them materially for faithful financial giving (Deuteronomy 15:10; Proverbs 3:9-10; 11:25; Malachi 3:8-12).
In Deuteronomy 28:1-13, God tells the Israelites that He would reward their obedience by giving them children, crops, livestock, and victory over their enemies, but He also tacks on fifty-four more verses describing the curses that would come upon the nation if they didn't obey Him—including diseases, heat and drought, military defeat, boils, tumors, madness, and blindness. The teaching is double-edged: prosperity for obedience, adversity for disobedience (Deuteronomy 28:14-68).
The Old Testament also warns against the dangers of wealth—especially the possibility that in our prosperity we may forget the Lord (Deuteronomy 8:7-18). Furthermore, the Bible recognizes frequent exceptions to the prosperity/adversity doctrine, noting that the wicked often prosper more than the righteous. The psalmist said, "I have seen a wicked and ruthless man flourishing like a green tree in its native soil" (Psalm 37:35), and "I envied the arrogant when I saw the prosperity of the wicked. . . . This is what the wicked are like—always carefree, they increase in wealth" (Psalm 73:3, 12). Solomon saw "a righteous man perishing in his righteousness, and a wicked man living long in his wickedness" (Ecclesiastes 7:15). Jeremiah, a righteous man who lived in constant adversity, framed the question this way: "You are always righteous, O Lord, when I bring a case before you. Yet I would speak with you about your justice: Why does the way of the wicked prosper? Why do all the faithless live at ease?" (Jeremiah 12:1).
Are material wealth, achievement, fame, victory, or success reliable indicators of God's reward or approval? If so, then He is an evil God, for history is full of successful madmen and prosperous despots. Was God on the side of Hitler, Stalin, Mao, and other prosperous butchers of history during their rise to power and at the apex of their regimes when they were surrounded by material wealth? Is God also on the side of wealthy cultists, dishonest business executives, and immoral entertainers? If wealth is a dependable sign of God's approval and lack of wealth shows His disapproval, then Jesus and Paul were on God's blacklist, and drug dealers and embezzlers are the apple of His eye.