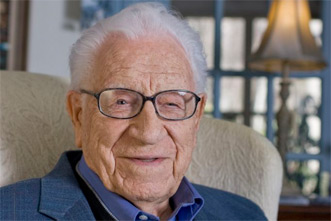 Gospel singer George Beverly Shea, most noted for leading worship with the Billy Graham Evangelistic Association, died on Tuesday evening in Asheville, N.C., at the age of 104. According to The Christian Post, Shea's powerful baritone preceded Graham in song at every one of his crusades for nearly 60 years.
Shea was particularly known for his tradmark rendition of "How Great Thou Art" and "The Wonder of It All." Shea recorded more than 70 albums and received 10 Grammy nominations, a Grammy win in 1965, and a Lifetime Achievement Award by the Grammy Association in 2011. Graham released a statement this week calling Shea "one of the most humble, gracious men he had ever met and one of his closest friends."
Graham's son, Franklin Graham, stated, "Even though Bev was 10 years older than my father, he never acted his age. He was absolute fun to be with. Bev was one of the most gracious and unassuming men I have known. He was always encouraging and supportive, a man of deep faith and strong commitment to Jesus Christ."
Services are still being planned for Shea in North Carolina.