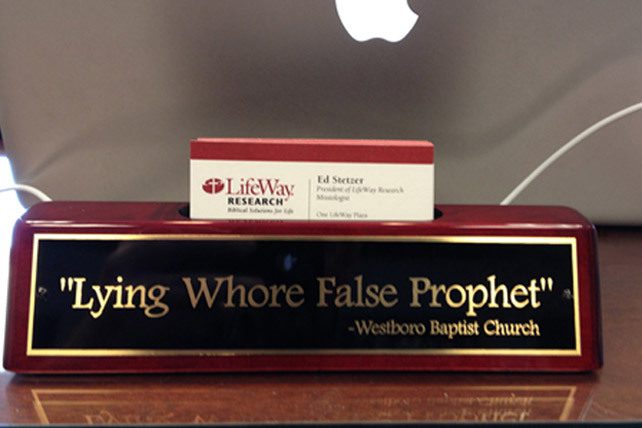 When you come into my Wheaton College office, you will notice a strange nameplate. It says, "Lying Whore False Prophet." A few years ago, I explained the story at my former blog. I have updated it here.
Some time ago, I was part of The Nines, an online leadership event hosted by my friends at Leadership Network. The topic of my video was how churches can best handle disruptive situations.
For the video, I reflected on an experience Philip Nation and I had with Westboro "Baptist Church." (I actually prefer the term non-Baptist, non-Church.) They picketed the church we were serving at the time.
As the video aired, the folks at Westboro tweeted from their now-suspended account.
"Every day around the world a lying whore false prophet like @edstetzer holds forth about Westboro's testimony. #GotTheirAttention #PraiseGod"
– MargiePhelps (@MargieJPhelps) October 25, 2012
If that's the kind of label they want to put on people whose desire is to show and share the love of Jesus Christ to all kinds of people, then by all means consider me (as my Twitter bio read for a while) a Christian, Husband, Father, President of Lifeway Research, Missiologist, Pastor, Lying Whore False Prophet.
So, if believing that God loves us—including sinners, and (yes) protestors—then I am guilty.
Now, thanks to Lizette Beard, I have a nameplate that including my new title, "Lying Whore False Prophet." I plan to keep it on my desk just to explain that God loves all people— which was what the Westboro folks objected to.