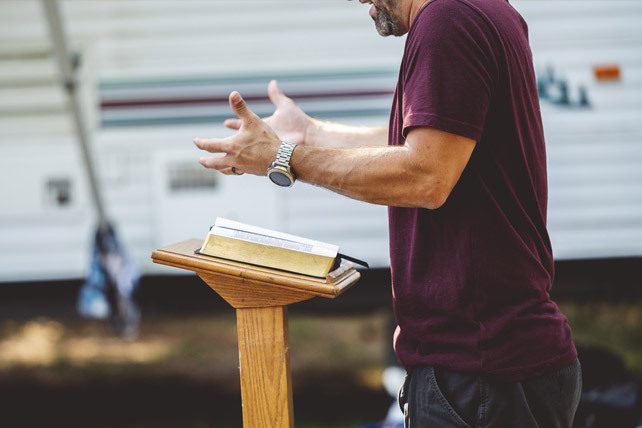 Winston Churchill one commented on a speaker he heard, "He can be described as one of those orators who, before he gets up, does not know what he is going to say; when he is speaking, does not know what he is saying; and when he has sat down, doesn't know what he has said."1 
As preachers of God's Word, may that not be said of us!
When we speak of preaching, our starting point is the Bible. I've written on engaging the Scriptures through biblical preaching on many occasions, but I'm often asked about the role of the pastor and the people in the preaching event—how do we connect to them well?
Preaching is a vital component of Christian worship. In preaching, we proclaim God's Word, calling unbelievers to repentance and faith and believers to spiritual growth. According to Paul in Ephesians 4:11, through preaching (along with teaching) we build up the body of Christ and equip believers for ministry. However, many preachers struggle to deliver effective sermons, because they do not know how to engage their people well. 
In this article, I will share some practical tips for improving sermons and communicating God's message effectively—from the preacher to the people, bridging the gap Between Two Worlds, as John Stott wrote, from the time of the Bible to our time today.
Prepare Your Sermon
The first component of effective preaching is careful preparation. We begin by studying the biblical text and determining its meaning in its original context and then its relevance for our audience. Next, we craft a clear and compelling message that communicates God's truth in a way that resonates with our congregation. We should take the time to outline our sermon and practice it until we are comfortable with the material. This helps us deliver a confident and engaging message that connects with our audience.
A practice that may be helpful is allowing someone else to review the sermon, or perhaps the main points of our sermon, ahead of time. This feedback can help us ensure we are making our points clearly, using illustrations wisely, and expositing the text well. This step can be helpful at various stages of sermon preparation, so different preachers may find it most useful at different stages. 
Know Your Audience
Knowing our congregation—the audience of the message—is another key to effective preaching. This means understanding the needs, concerns, and interests of the people we are addressing. We need to take the time to get to know the community within our congregations. Once we grasp the meaning of the text for a given message, we then think about how this will speak to our people in our context. This is a continual habit to maintain, not a box to be checked off once or twice a year. Do we know their struggles, questions, and doubts? What are their aspirations and hopes? Do we—in our mind's eye—sit in their seat, imagining them as they hear the message? By knowing our audience, we can tailor our message to meet their needs and connect with them in a meaningful way.
The Bible is relevant today. However, we might not know that by the way some pastors preach. Our preaching cannot be disconnected from the realities our congregations face regularly. One of the prophet Amos' biggest grievances with the people and priests of Israel during his time was their refusal to address the reality of their cultural, religious, and national situation (see Amos 4:4-5; 7:7-17). Preaching can equip our audience to think through some of their most pressing questions in relation to the good news of Jesus Christ. This is most effective when we keep in mind those to whom we are preaching. 
Use Helpful Illustrations
One of the most effective ways to connect with our audience is through illustrations. Illustrations are stories, anecdotes, or examples that enable people to better understand a biblical text or theological premise. When used appropriately, illustrations can capture people's attention and help them remember key points from the sermon. 
Practice giving your illustrations, so they make the point and aren't too long. And be careful not to overuse illustrations, as this can distract from the overall message we are trying to communicate. Our illustrations should act like supporting cast for the main story of the text and especially the gospel. If they consume too much of our sermon time, bring too much attention to ourselves, embarrass others, or cause an unwarranted uproar, we have unnecessarily eclipsed the word of God in worship.  
[1] James C. Humes, The Wit & Wisdom of Winston Churchill: A Treasury of More than 1,000 Quotations and Anecdotes (New York: Harper Collins e-books, 1994), 2222 of 3375, Kindle.