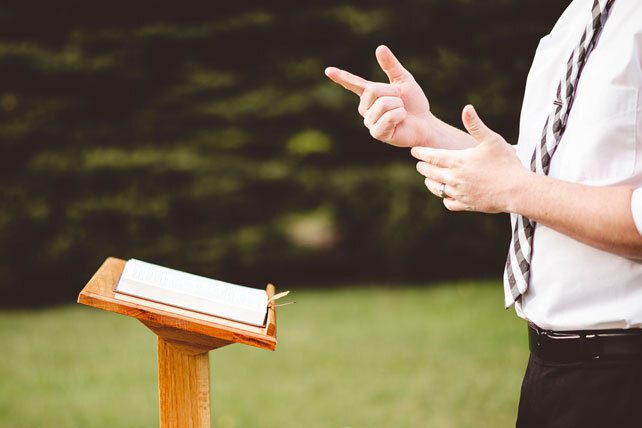 I don't know what comes to your mind when you hear the word "art," but I tend to think of paintings like the Mona Lisa. But art is much broader than paintings.
Of course, the always trustworthy Wikipedia defines art as "a diverse range of human activities in creating visual, auditory or performing artifacts, expressing the author's imaginative, conceptual idea, or technical skill, intended to be appreciated for their beauty or emotional power." Thus, art includes activities such as designing, acting, writing, and speaking. 
Church leader, have you ever stopped to consider that preaching (or teaching) is an art. Preaching the Word is a similar activity to that of Shakespeare writing Hamlet, Van Gogh painting The Starry Night, Gaudi constructing the Sagrada Familia, Mozart composing Symphony No. 40, or Andrea Bocelli singing Con Te Partiro. 
In this brief post, I want to share with you how I approach the A.R.T. of Preaching. 
A — Stands for AIM
.
When I am crafting a message I always have gospel-transformation as my aim. I'm praying that Jesus transforms the hearts of the people who sit under the teaching of His Word. To arrive at gospel-transformation, I think of the audience I'll be communicating to, the information/truth of the text, and how to apply that truth to the heart of the listener. If you are a formula or math person, think of it this way: 
Relationship + Truth + Application = Transformation
R — Stands for RHYTHM
.
I have initiated a preaching rhythm (or calendar) over the years. At the beginning of each year I start with a mini-series to set the tone and direction for the church. This past year, I began with the series, "A New Thing" given that we were about to launch our one–three-year strategic plan called Project New Thing. For the spring I go through a book of the Bible — verse by verse/chapter by chapter. However, I take a small break for Easter where I begin a series on Easter Sunday in hopes of creating an on-ramp to entice the "Chreasters" to finish out the series. I then go back to the book series until the summer. 
In the summer — particularly June and July — we have our cultural engagement series. In June, we have our T.E.D. (Theological. Educational. Discussions) series, which is designed to help Christians think biblically about topics relevant to our culture. In July, we have our A&E (Arts and Entertainment) series. Here's the synopsis of this series:
Did you know the movies and songs our culture creates serve as a cultural anthropology and theology? In other words, they depict what we believe about man and God. Thus, they speak to our hopes, fears, dreams, aspirations, longings, desires, hurts, heartaches, pain, and suffering as human beings. As Christ followers who live in the world but are not to be of the world—and who are called to reach those far from Jesus—it is important that we know (or exegete) the culture and context that God has planted us so that we can better communicate the truth of God's word in the heart language of the culture.