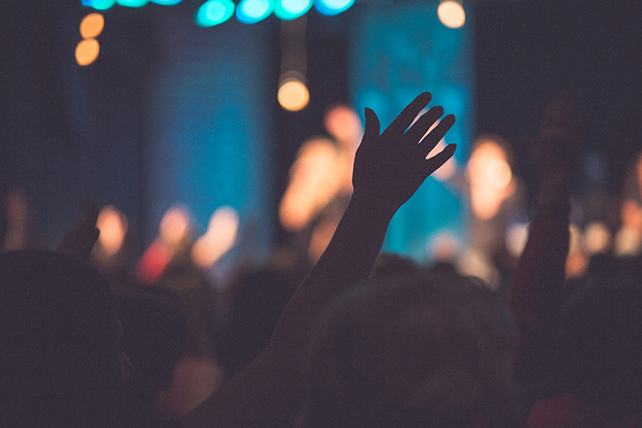 Lifting of hands is part of worship in many churches. Worship involves our bodies as well as our hearts and minds. Our posture tells a story. It makes a statement to God and to others about the state of our souls and the affections and passions of our heart.
If you were to visit Bridgeway, you would immediately recognize that we freely and frequently lifting of hands when we worship. Some people may be seen kneeling. Some sit throughout the course of a service, either by preference or due to some physical limitation. Some just stand. And yes, some even dance. But for the sake of time and space,
I'll forego talking of the other postures and restrict my comments to the lifting of hands and its significance for worship.
10 Notes About Lifting of Hands in Worship
1. Biblical Precedent
I lift my hands when I pray and praise because I have explicit biblical precedent for doing so. I don't know if I've found all biblical instances of it, but consider this smattering of texts.
"So I will bless you as long as I live; in your name I will lift up my hands" (Psalm 63:4).
"To you, O LORD, I call; my rock, be not deaf to me, lest, if you be silent to me, I become like those who go down to the pit. Hear the voice of my pleas for mercy, when I cry to you for help, when I lift up my hands toward your most holy sanctuary" (Psalm 28:1).
"Every day I call upon you, O LORD; I spread out my hands to you" (Psalm 88:9).
"I will lift up my hands toward your commandments, which I love, and I will meditate on your statutes" (Psalm 119:48).
"Lift up your hands to the holy place and bless the LORD!" (Psalm 134:2).
"O LORD, I call upon you; hasten to me! Give ear to my voice when I call to you! Let my prayer be counted as incense before you, and the lifting up of my hands as the evening sacrifice!" (Psalm 141:1-2).
"I stretch out my hands to you; my soul thirsts for you like a parched land" (Psalm 143:6).
"Then Solomon stood before the altar of the LORD in the presence of all the assembly of Israel and spread out his hands. Solomon had made a bronze platform five cubits long, five cubits wide, and three cubits high, and had set it in the court, and he stood on it. Then he knelt on his knees in the presence of all the assembly of Israel, and spread out his hands toward heaven" (2 Chronicles 6:12-13).
"And at the evening sacrifice I rose from my fasting, with my garment and my cloak torn, and fell upon my knees and spread out my hands to the LORD my God" (Ezra 9:5).
"And Ezra blessed the LORD, the great God, and all the people answered, 'Amen, Amen,' lifting up their hands. And they bowed their heads and worshiped the LORD with their faces to the ground" (Nehemiah 8:6).
"Let us lift up our hearts and hands to God in heaven" (Lamentations 3:41).
"I desire then that in every place the men should pray, lifting holy hands without anger or quarreling" (1 Timothy 2:8).
2. Worship  – and Prayer
If someone should object and say that few of these texts speak of worship (see Pss. 63:4; 134:2), but only of prayer (as if a rigid distinction can even be made between the two; indeed, I can't recall ever worshiping God without praying to him; and prayer is itself a form of worship).
I also have a question: Why do you assume that the appropriate place for your hands is at your side and you need an explicit biblical warrant for raising them? Wouldn't it be just as reasonable to assume that the appropriate place for one's hands is the lifting of hands toward heaven, calling for an explicit biblical warrant (other than gravity or physical exhaustion) to keep them low?