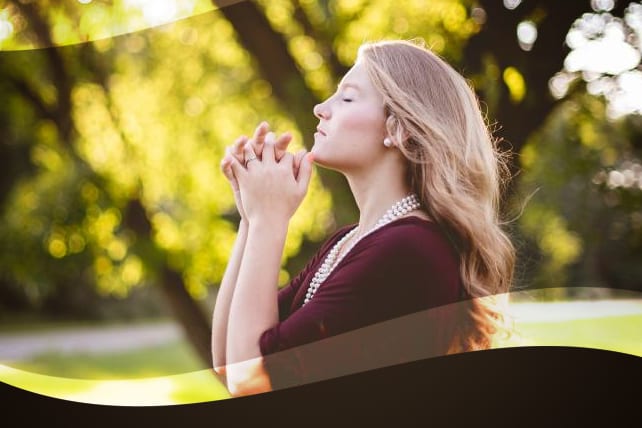 It's helpful in daily prayer to explore simple prayer ideas. While in my seminary days I found great help in prayer from a resource produced by Peter Lord of the First Baptist Church of Titusville, Florida, called the 2959 Guide (29.59, or about 30 minutes in prayer). The following is my adaptation and expansion of something I first thought of while going through the guide. I often use this in my daily prayer time. Perhaps it will encourage you as well. These are seven prayer ideas you see practiced consistently in Scripture. While I'm emphasizing these for personal prayer, they would be useful in corporate settings as well.
7 Simple Prayer Ideas from Scripture
1. Praise
Praise is our response to the person of God. We praise him for who he is. Praise is not noise, just as reverence is not silence. It is the acknowledgment of God's greatness. It is recognizing he is "hallowed," or "holy," as the Model Prayer tells us (see Matt 6:9). Sometimes reading a Psalm of praise helps here. Beginning with praise starts our praying with a focus on God, not us, which is always best.
2. Thanksgiving
This is our response to the goodness of God. Thank him for what he has done. "Enter His gates with thanksgiving" (Ps 100:4). "In everything give thanks" (1 Thess 5:18). An attitude of gratitude should permeate our lives.
3. Confession
Confession is our response to the holiness of God. Our sins will hinder our praying (see Ps 66:18). As we pray, we can ask the Holy Spirit to reveal each sin in our lives. Then we can confess the sin (see 1 John 1:9) and forsake it. When broken relationships are involved, we should seek to make them right as well (see Matthew 5). Remembering God's forgiveness in Christ also helps us to be forgiving to others.
4. Intercession
This is our response to the love of God. Intercession means taking time to pray on behalf of others. When we ask of God, Foster reminds us, we are not "trying to manipulate God and tell Him what to do. Quite the opposite. We are asking God to tell us what to do. God is the ground of our beseeching… Our prayer is to be like a reflex action to God's prior initiative on the heart." (Foster, Celebration of Discipline, 42.)
5. Petition
Petition is our response to the love of God for us. It is appropriate and necessary for us to ask God to meet our needs. However, in our consumer-driven culture, we can learn from this prayer of petition from an anonymous soldier:
I asked God for strength that I might achieve;
I was made weak that I might learn humbly to obey.
I asked God for health that I might do greater things;
I was given infirmity that I might do better things.
I asked for riches that I might be happy;
I was given poverty that I might be wise.
I asked for power that I might have the praise of men;
I was given weakness that I might feel the need of God.
I asked for all things that I might enjoy life;
I was given life that I might enjoy all things.
I got nothing that I asked for—
but everything I had hoped for.
Almost despite myself, my unspoken prayers were answered.
I am among all men most richly blessed. (C. R. Swindoll, Living Above the Level of Mediocrity (Waco: Word Books, 1987), 113.)
6. Listening
Listening is our response to the voice of God. You may not be aware of it, but wherever you are as you read this, noises are all around you. Rock-and-roll music is all around you. Rap tunes are playing. People are discussing various topics from sports to finance. The only thing you need to hear these voices is the proper receiver. Opening the Spotify App will suddenly usher into your presence a bevy of sounds.
Prayer operates the same way. We may struggle with unanswered prayers, but God is constantly speaking to us, teaching us, leading us. He always speaks through his word, and he never speaks contrary to it. The question is not whether God is speaking but if we are listening.
7. Consecration
Consecration is our response to the activity of God. It is a prayer of commitment. Often in Scripture believers made specific, fresh acts of consecration: Jonah in the whale's stomach (Jonah 2:1–10); David, following his sin with Bathsheba (Ps 51); Paul, our Lord and others. In our times of prayer, we are often confronted with the need to make a fresh, new commitment to God.
This article about simple prayer ideas originally appeared here.
Read this article about fervent prayer.