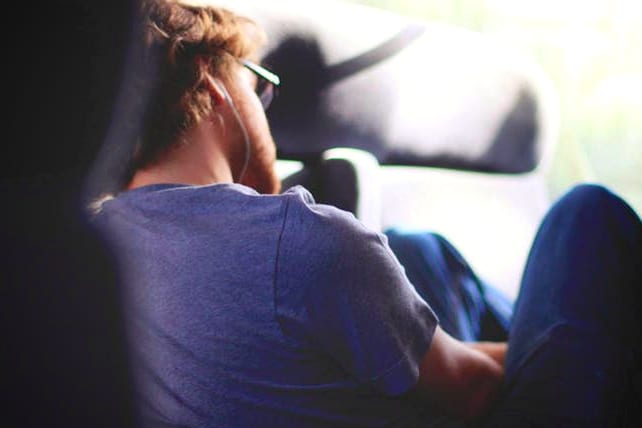 You may have noticed that it's been pretty quiet around here lately.
That's because I've been nose deep in more data about teenagers than I ever knew existed.
Teenage media consumption, nutrition patterns, homework habits and more…
My takeaway from all of it might fundamentally change the way I do youth ministry…
…and it might for you too.
(And at the very least, it will make you glad you're not a teenager anymore.)
We're dealing with the most stressed-out, overscheduled, underslept generation of teenagers in history, and it's starting to show.

Every statistic that matters is pointing to the exact same thing. Teenagers are assigned more homework than ever before. Teenagers who play sports have more mandatory practices than ever before…
…and they know full-well the ones that aren't technically mandatory, unless, of course, you actually want to make the team.
Students who play music spend more time rehearsing than ever before, and students spend more time than ever before filling out college applications and scholarship forms. The list goes on and on.
In fact, it's gotten so bad that parents of teenagers are more likely than not to say that, yes, their teenagers typically have longer "work days" than they do.
If you read that last sentence and didn't experience a visceral reaction to it, then maybe you didn't totally understand it.
Because what it means is that we are living at a time when 14- and 15-year-olds—who are physiologically and emotionally children, by the way—are typically saddled with more hours of expected productivity than fully-grown adults.
It's the kind of thought that belongs in a great big box with a simple hyperlink so that you can share it with anyone who cares about teenagers:
What's the net result all of that? As I'm sure you've guessed, it's not pretty.
A reliance on processed food because they're too busy for meals.
Sleeping two hours less per night than teenagers did just 15 years ago.
Massive increases in suicide, mental illness and depression.
And of course, as any youth pastor already laments, students today have significantly less time for church activities.
(There's a heart-check for all of us here. We should be far more upset about the effect that all of this is having on teenagers than our attendance numbers.)
So how do we do ministry with the most exhausted generation ever?
For me, it starts with Matthew 11:28. Jesus promises rest for the weary and refreshment for tired souls. There may not be a more pertinent or attractive message for stressed-out teenagers in a world that shows no indication of letting up.
Come to me, all you that are weary and are carrying heavy burdens, and I will give you rest. Take my yoke upon you, and learn from me; for I am gentle and humble in heart, and you will find rest for your souls. For my yoke is easy, and my burden is light.

Now, I'm not suggesting that we should make faith easy, because it isn't. I'm not suggesting we shouldn't challenge students or draw them into deeper levels of involvement.
But if a student doesn't know the Jesus who promises rest, it's time to start making that introduction, because here's the reality:
Our students are sick.

I don't mean this in a metaphorical way or even necessarily in a spiritual way.
Ask any doctor what happens when a person experiences stress beyond their limits for extended periods of time. Ask them what happens when that person is also severely underslept and relies on unhealthy foods for quick and easy calories. Ask them what happens when that person uses caffeine regularly just to keep going, and especially ask them what happens when the person is emotionally incapable of handling all of this.
They'll tell you.
That person is sick.

Years ago, a student of mine had an undiagnosed illness that was literally eating away his organs and was threatening to kill him. I encouraged him. I pastored him. I loved on him.
He had good days and bad days, and when he couldn't make it to youth group, I didn't give him a guilt trip for it, and neither would you.
And just because I can't leave you hanging, I'll tell you that God did a miracle, he recovered, and that he's doing just fine still today.
Over the course of the next few weeks, I'm going to unpack several real simple, practical things that you can do to give your ministry the flavor of Matthew 11:28. Do yourself a favor and get on my email list to make sure you don't miss any of it.
But the most important lesson that I learned was all those years ago when that student was sick, because, make no mistake about it, that's the business we're in now.
Stressed out.
Overwhelmed.
Exhausted.
Depressed.
And on and on it goes.
Thank you for your ministry. It's needed now more than ever before.