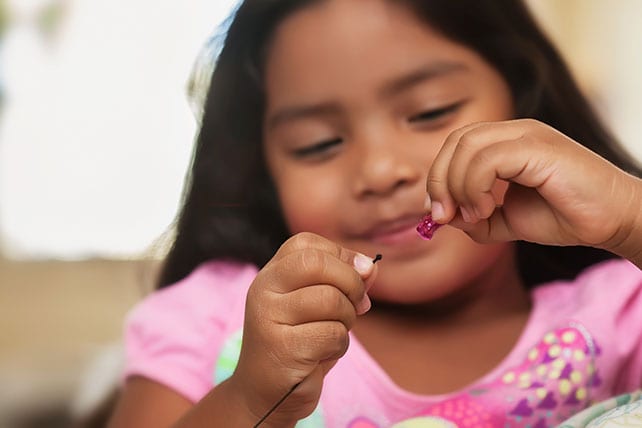 Children of all ages love to make crafts. Here's a fun, easy idea for a Lord's Prayer craft that kids can make and wear. The colorful bracelet will remind children about this important prayer that Jesus teaches his followers (see Luke 11:1-4).
Twice a month, I teach about 30 children in grades one through four. With that many learners, I like to have a variety of teaching options. For children's ministry, I find that stations tend to work best. During a recent lesson about Jesus' disciples, I had children rotate through three tables: one had standard lesson materials and the other two had prayer-related crafts. The Lord's Prayer Craft Bracelet was such a hit that I wanted to share it with my fellow children's ministers!
How to Make a Lord's Prayer Craft Bracelet
On Pinterest, I found a bunch of similar pins that use colored beads to represent the petitions in the Lord's Prayer. (Don't you just love the internet? It makes children's ministry so much easier.) Some suppliers sell ready-made craft kits for this specific activity, but it's easy to make your own. Just gather stretchy bracelet cording and a variety of plastic beads.
For this Lord's Prayer craft, each color stands for a specific phrase, which helps children remember Jesus' important words.
Several people recommend printing out the text on business cards so children can take them home. But I didn't see any free printables online, so I decided to create one and share it. I simply copied and pasted text into Canva (which has a free business card template). Then I added free clip-art and pasted the image onto a full page (resulting in eight business cards per page). That PDF printable is below for you to download for free.
Here's the text—and the bead colors you'll need to complete this Lord's Prayer craft bracelet:
Blue is the color of fathers.
White represents holiness.
Purple is a majestic color.
Green is the color of the Earth.
Yellow reminds us of wheat.
Red reminds us of Jesus' blood.
Orange is the color for the darkness of evil and temptation.
Gold reminds us of God's heavenly kingdom.
As promised, here's a link to the free printable PDF sheet that contains eight cards. Print as many as you need for your ministry. Then cut them out so children can each take home the "color code" as a prayer reminder.
This article about a creative Lord's Prayer craft originally appeared here.