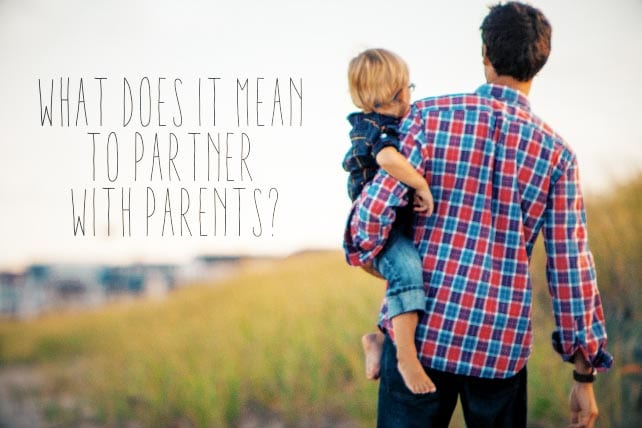 As ministry leaders, we cannot deny that partnering with parents is a big need in our churches. But, what does this actually look like? How do we make parents feel like they are being partnered with, versus solely expressing the strategy that it's what we desire to do? Partnering with parents looks different for every mom and for every dad. Because of this, we must find their parent-partnering language!
Think, Gary Chapman, "love languages." Just as a husband and wife can feel loved and appreciated through different love languages, each parent will sense our parent/church partnership differently. I have walked alongside one mom who enjoys coming by my office. She feels like she has a partner when I share my time with her, reinforcing my observations on her being a thoughtful and amazing mom. She also appreciates when I take the time to tell her about myself. I have found that this mom needs to be affirmed in addition to being able to trust me.
I have another mom who prefers we grab coffee together, while another set of parents seeks me taking their teenage daughter out to coffee. The first mom needs "another adult" to speak into her day, while the latter set values someone speaking into their daughter's high school social life. Parents of two toddler girls have asked me to keep them up to date on the best parenting resources. They don't have time to come by the office or grab coffee as they both work full-time, but they want to be purposeful about learning and growing as parents. These parents feel like they have a partner when I value their time and send them resources that fit their needs as they progress through each phase of their children's lives.
Partnering with parents doesn't always mean you have to be directly involved. Encourage your volunteers to look for the "partnership language" that best speaks to each family they interact with. An example of this is Cole's parents. They adore their son's preschool small group leaders. They love seeing Cole receiving cards in the mail from them and seeing them show up at the soccer field for his game. Another example is Jenna's single father. Her dad needed to be introduced to a godly man who would walk alongside him and mentor him through this season of life. Although you may not be directly involved with every parent in your ministry, the way you strategically set up your ministry and equip your team will determine the effectiveness of each parent partnership. My role as a ministry leader is to enlist volunteers who serve out of a true desire to build meaningful connections with children and their parents.
Almost all parents want to be good parents; however, many, if not all, feel like they are ill equipped to do so. That gives us a great opportunity to step in and help parents be the best parents they can be. It will look differently in each church and in each family. It might be in the form of a parenting class or baby dedication ceremony. It might be a book, magazine or blog. It might be one-on-one time or a prayer written on a postcard. There are many ways to partner with parents, however, you have to be intentional about discovering which ways parents will receive your relationship best.
Partnering with parents can simply be a catchy little phrase or an amazing way to do ministry to impact the next generation for Christ. Partnering by definition is "a person who shares or is associated with another in some action or endeavor." As far as I am concerned, there is no greater endeavor than for the church to share with parents the awesome opportunity and responsibility to raise children to know and love the Lord. Partnering with parents so they feel this partnership is done best in the context of authentic relationships. So, let's do this thing!
Let's mix a whole bunch of yellow with an insane amount of red and create a big ORANGE movement that raises up the next generation of Christ followers together!  
This article originally appeared here.